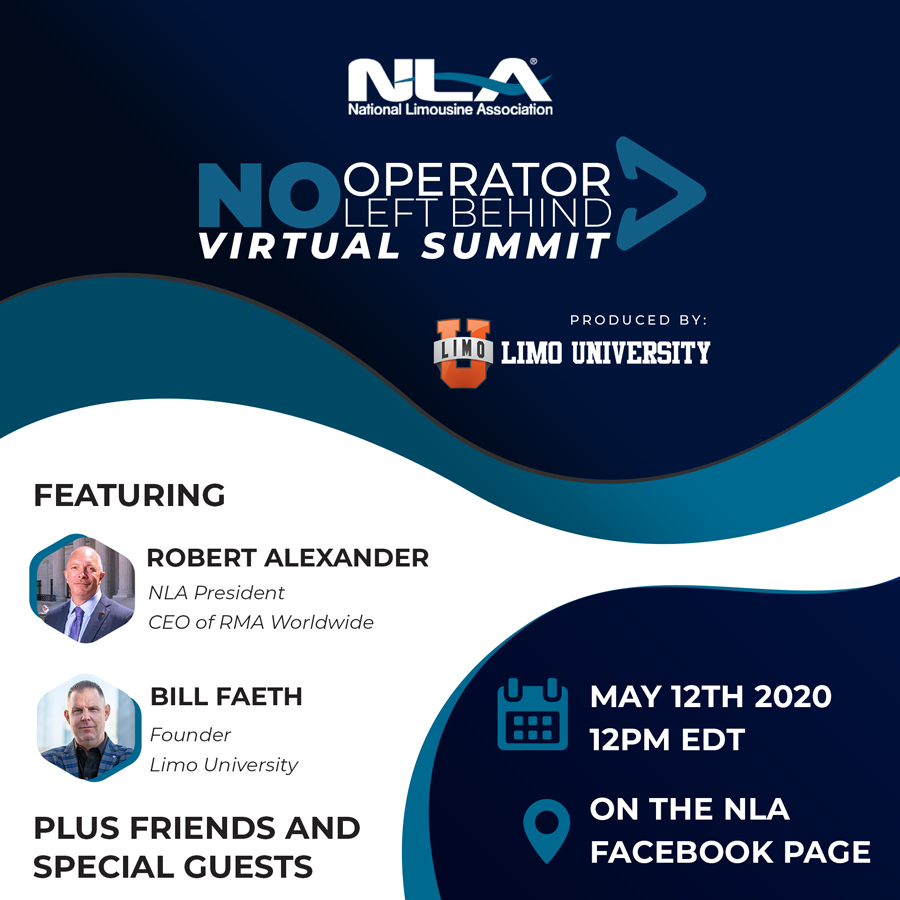 The National Limousine Association (NLA) recently announced that it would host a special online event on May 12 to replace the postponed No Operator Left Behind Day, an in-person event that was planned for the same day. The Virtual Summit will take place on the NLA's Facebook page starting at noon ET.
The NLA describes No Operator Left Behind (NOLB) as a program built by Limo University Founder Bill Faeth and past NLA President Gary Buffo in conjunction with the NLA specifically aimed at smaller operators (19 vehicles or fewer). It is part of a multi-pronged initiative that aims to arm those operators with the education and support they need to thrive, while connecting them with larger NLA member operators who have the experience to offer guidance.
In a letter to members: "We regret to inform you that the No Operator Left Behind Day event planned for May 12 has been postponed due to COVID-19. While it pains us to push the event back, the safety of our attendees is our utmost priority. We are shooting to reschedule for later this summer. Once we have additional information, we will be sure to notify you. In the meantime, we are pleased to provide you with valuable education. You're invited to join us on May 12th for the NOLB Virtual Summit hosted by Robert Alexander, NLA President, and Bill Faeth, founder of Limo University, with special guests. The event will take place live on the NLA Facebook page, starting at 12:00 PM EDT. We look forward to 'seeing' you on May 12th and wish you and your families safety and health during this time."
Visit nolbday.com for more information. The NLA is also continuously updating its coronavirus resource page, available here. 
[04.07.20]