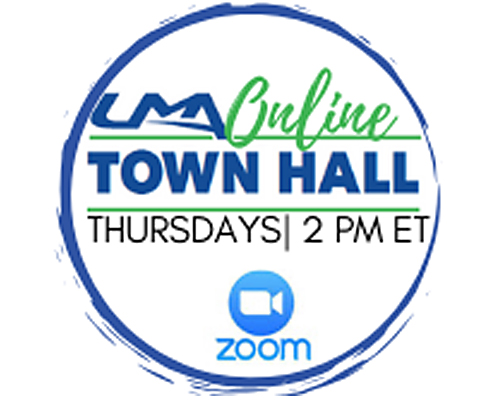 The United Motorcoach Association (UMA) hosted its weekly online Town Hall this past Thursday, April 2, with lots of updates on the CARES Act and other protections for small businesses during the coronavirus crisis. The call was led by UMA Chairman Jeff Polzien, Interim President and CEO Larry Killingsworth, and Vice President Ken Presley, who welcomed input and tons of questions from members.
The new Paycheck Protection Program (PPP) as part of the $2.2 trillion stimulus package and enhanced funding of the Economic Injury Disaster Loans (EIDL) available through the Small Business Administration were top of mind. Although there was some disappointment that Congress didn't specifically recognize the motorcoach industry in the three emergency stimulus packages thus far, Polzien was overall hopeful that the results will help members.
UMA Chairman Jeff Polzien
"What we got in this bill [CARES Act] is probably better than what we asked for," Polzien said. He added that the association "isn't done" pressuring Congress to help the industry, and that the stimulus passed thus far is a bridge to get the industry working again. Killingsworth added that the next stimulus package (dubbed Coronavirus 4) could be passed through Congress as early as the end of April or the beginning of May—as Congress is currently in recess—and should address the long-term health and restart of the economy.
UMA Vice President Ken Presley
Presley offered an overview of both the PPP and EIDL process. He noted that operators can apply for both, but that the funds could not be used for the same thing. PPP, which can be forgivable, was designed primarily to cover payroll costs with additional allowances for rent, mortgage interest, and utilities for an eight-week period, while EIDLs are for other operational expenses such as insurance and vehicle payments. He said that the requirements to qualify for EIDLs have been relaxed, including proof that you've exhausted all other resources or lines of credit, and that repayment terms were up to 30 years. So-called micro EIDL loans may not require collateral. Presley also highlighted the $10,000 emergency grant to cover immediate operating costs, which is supposed to be received within three days of approval, regardless of whether the business is approved for an EIDL.
UMA Interim President and CEO Larry Killingsworth
Although the final application for the PPP was not available until the day after the call, several UMA members expressed their experience thus far regarding preliminary talks with their banks—some noting that the application wasn't difficult or time-consuming while others commented that some banks (Chase and Bank of America) were requiring an already established relationship with the institution in order to file with them.
Killingsworth also offered advice on what businesses could do now to help prepare for the future. He recommended reaching out to customers on a personal level not only to ensure that they are aware that the company is staying current with new cleaning SOPs, but to check in and foster that relationship. He said that the more customers see that you care, the more it will be appreciated when things get moving. He also suggested that owners stay in touch with furloughed team members, especially regarding any financial avenues the company is pursuing through the CARES Act, to "make them feel like they are still a part of the organization." For those team members that are working, he advised "getting creative with their time" with cross-training, online learning, updating SOPs and other procedures, and sharing their good ideas to improve the business.
Town Halls are held every Thursday at 2PM ET. Information to join is available here. 
[04.07.20]