Carolina Limousine & Coach, based in Myrtle Beach, S.C., has announced that they are the winners of a 2020 Gold Hermes Creative Award for their "Imagine a Brighter Future" social media video campaign, a response to COVID-19.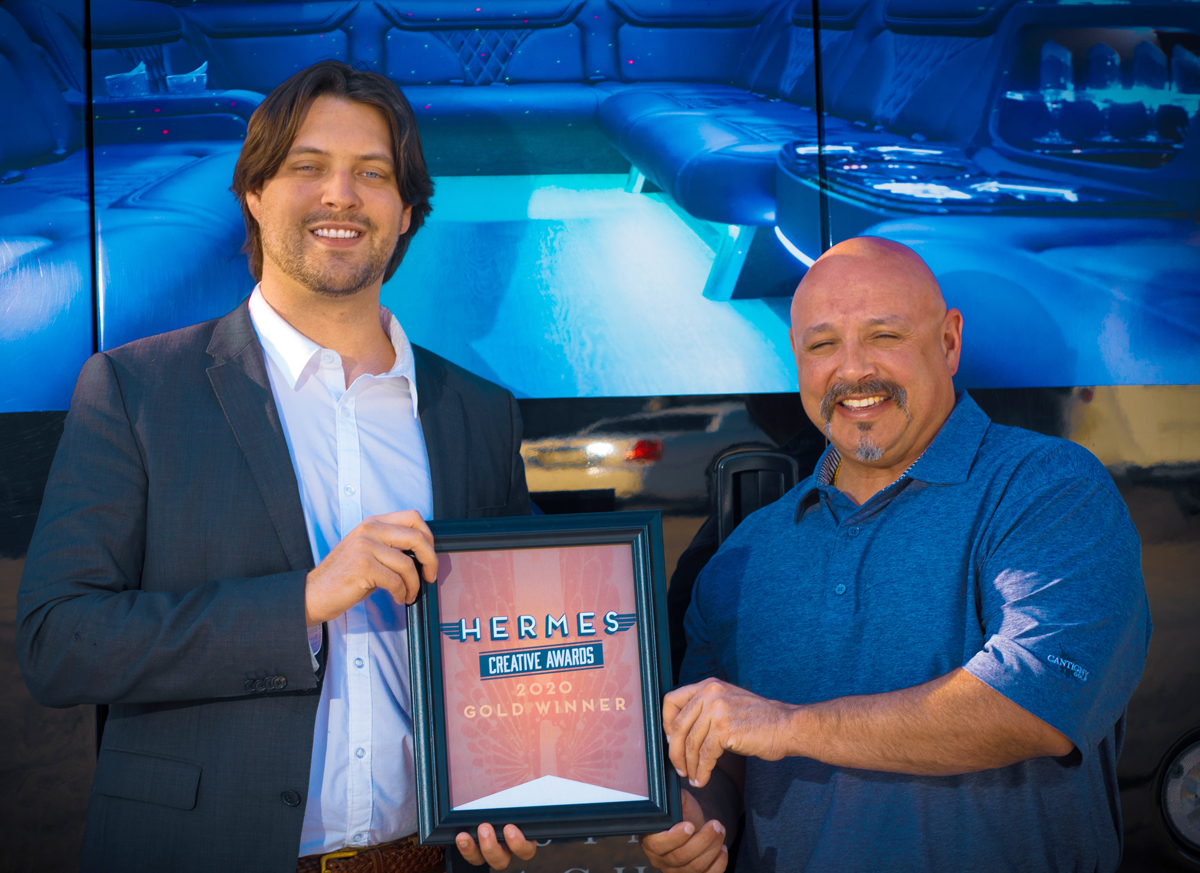 Carolina Limousine & Coach Special Projects Coordinator Andrew Wright (left) and President/Owner Joe Reinhardt with their Hermes Award
The Hermes Creative Awards, one of the oldest and largest creative competitions in the world, honors the "messengers and creators of the information revolution." Armed with their imaginations and computers, Hermes winners bring their ideas to life through traditional and digital platforms. Winners range in size from individuals, to media conglomerates, and Fortune 500 companies. Each year, competition judges evaluate the creative industry's best publications, branding collateral, websites, and videos, along with advertising, marketing, and communication programs.
Created by Carolina Limousine & Coach Special Projects Coordinator Andrew Wright and collaborator Thomas Hart, the goal of the video was to give the company's Myrtle Beach community something to look forward to.
"We want our community to maintain hope that the future will be brighter," says Wright. "We told our community to imagine a brighter future by imagining riding in one of our vehicles someday soon."
While Wright is aware that it will take some time before people are traveling and back to normal, he hoped that focusing on their service might provide a beacon of hope for better times down the road.
"Our service is about togetherness," he says. "We just want our community to imagine being together with close friends and loved ones inside one of our vehicles. With any luck, by suggesting this togetherness to the community we can instill some hope into their hearts and minds that we will get through this, we will endure, and when it's over, we will thrive."
Carolina Limousine & Coach President/Owner Joe Reinhardt says that the message in the video is part of the company's vision during the industry downturn.
"During the COVID-19 crisis the goal of our marketing has been to be positive, letting our clients and community know that we will be here when they ready to travel again. Andrew Wright in our marketing department has led this mission and we are honored to win the prestigious Hermes Award for Andrew's work," says Reinhardt.
Visit carolinalimo.com for more information. 
[05.04.20]