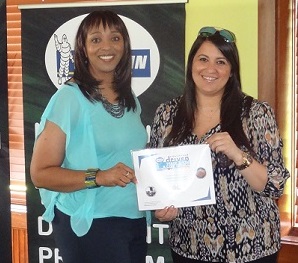 Renee Lee of Grand Dames Car Service and CD's Lauren D'AmbraTampa, Fla. —The most recent meeting of the West Florida Livery Association (WFLA) was held at the Chart House Restaurant right on beautiful shores of Tampa Bay. 
David Ward of American Motor Products (AMProd) spoke about the ongoing Road Show that AMProd is sponsoring. The ultimate goal of the Road Show is to visit as many state limousine associations as possible during the next several months and into 2015. Ward discussed products and services specifically created for the livery industry – products that deliver substantial cost efficiencies, such as: an NLA Affinity Sponsorship, AmProd Roadside Assistance, Maxwell Unified Networks, The Limousine App, and LimoLive24.
Chauffeur Driven Show Manager, Lauren D'Ambra, was in attendance at this meeting. D'Ambra spoke about Chauffeur Driven partnering with the Canadian Ontario Limousine Owners Association (OLOA) for the Canadian Limo Summit in Toronto, Aug 10-11. She also raffled off passes to the upcoming CD shows. The pass to the Canadian Summit was won by Heather Hale of Kings Executive Limo & Car Service, and a pass to the Atlantic City show was won by Renee Lee of Grand Dames Car Service.
The WFLA will host its next meeting on June 17.
Visit wflatampa.com for more information.
6/14