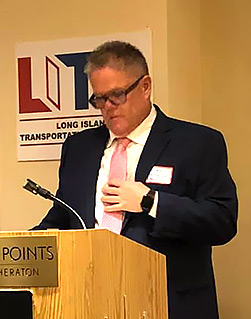 LITA President Doug Schwartz of Executive Ground Transportation
Staying upbeat! Douglas Schwartz, owner of Executive Ground Transportation and president of the Long Island Transportation Association (LITA), invited all members and friends of the association to participate in a Zoom meeting on July 16, where more than two dozen from across the country shared their stories about what's happening in their market. Despite the number of cases increasing in most U.S. cities, the Northeast seems to be holding steadily low in both new diagnoses and deaths—a great sign for the battered city.
Operators are finding bright spots of hope as regions cautiously begin moving again, including transportation for medical appointments and services, airline crews, meal delivery (especially charity work), and out-of-town trips. Most agreed that buses were slower to come back, but that their sedans, SUVs, and even stretches were attracting customers. In a surprising twist, operators are getting calls for retail work as passengers seek a safer alternative to public transportation or just have "quarantine fatigue." Ken Carter of Aadvanced Limousines shared that "ice cream socials" have gained attention with his customers, while Tracy Raimer of Windy City Limousine & Bus remarked that employee shuttles have kept some of their fleet on the road.
The industry is also highly focused on passenger and employee safety, with most mentioning the installation of partitions and detailing their cleaning work. Vincent Aquino of BLS shared their method for keeping the virus at bay, which includes a popular decontamination booth that isn't harmful to humans or clothing but kills the virus so that "our team doesn't go home with anything on them."
Stay tuned for future meetings. For more information on the association, email Schwartz at doug@executivelimousine.org.
[07.21.20]