Chauffeur Driven President & Publisher Chris Weiss is the guest on the second episode of Chosen Scoop, the new web interview series sponsored by credit card processor Chosen Payments and available on Facebook. Weiss and his long-time friend Chosen CEO Jeff Brodsly open up about the impact of COVID on the luxury ground transportation industry, the importance of relationships, and setting and achieving personal goals.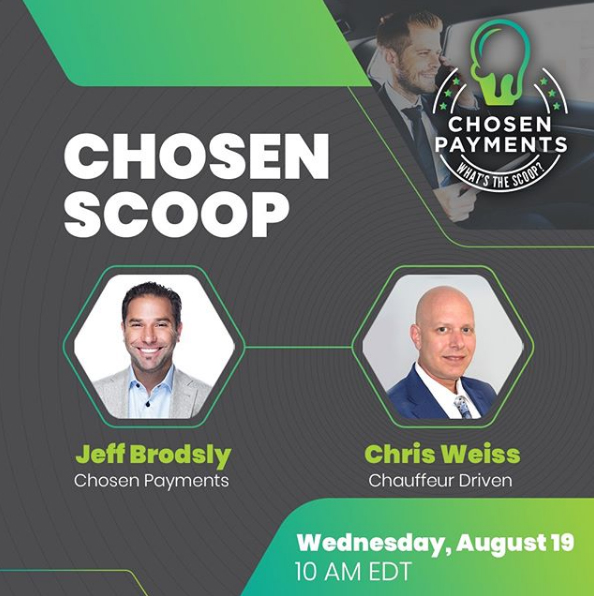 The webisode will be posted on Chosen Payments' Facebook page on August 19.
The first webisode of Chosen Scoop debuted on August 5, which featured a conversation between Brodsly and Chosen partner Dennis Madden of the Automatic Transmission Rebuilders Association. Chosen Payments has a notable presence in our industry, but also represents other business sectors such as automotive, eyecare, moving and storage, jewelry, and pet care. 
"Quarantining and COVID has made the world embrace video conferencing and Zoom meetings. We're using this as an opportunity to [expand] and grow into the various vertical industries we're in," said Brodsly, in an introduction to the first episode.
Weiss says he was thrilled to take part in Chosen Scoop, both as a friend to Brodsly and as a Chosen client.
"This was one of the most enjoyable interviews I've ever taken part in," Weiss says. "It felt more like a conversation between two friends, but I think operators will find some valuable takeaway in the discussion. I appreciate Jeff giving me the opportunity to take part in the Chosen Scoop."
Visit chosenpayments.com for more information on this and future webisodes.
[08.17.20]