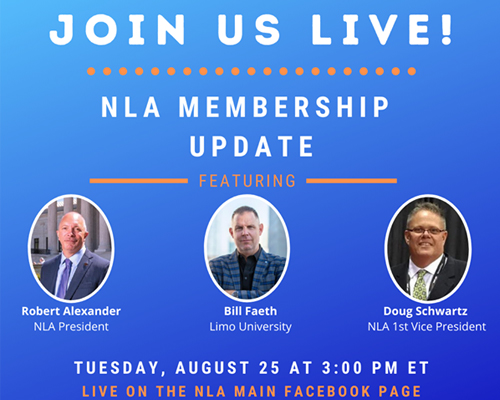 The National Limousine Association will host a special Facebook Live session this Tuesday, August 25 at 3PM ET, which will address the association's dues structure. Hosted by President Robert Alexander of RMA Worldwide, he will be joined by Bill Faeth of Limo University and First Vice President Douglas Schwartz of Executive Ground Transportation.
Alexander teased some of the details in his weekly letter to members this past Friday.
"Each year, the NLA Board of Directors spends hours discussing and strategizing on membership dues pricing and structure. There are so many things to review and think about when setting the dues and this year has provided additional challenges that the Board considered and discussed very seriously. Due to the recent revisions to the NLA Bylaws, the Board is now able to make adjustments to the current structure for new memberships and renewals."
Tune in live at facebook.com/NLA1985. Visit limo.org for more information.
[08.24.20]