Pearls are the traditionally appropriate gift for a 30th anniversary. If that's the case, then Reston Limousine is due for a new strand, as the luxury ground transportation company is celebrating its three decades of providing service in the Metropolitan D.C. area.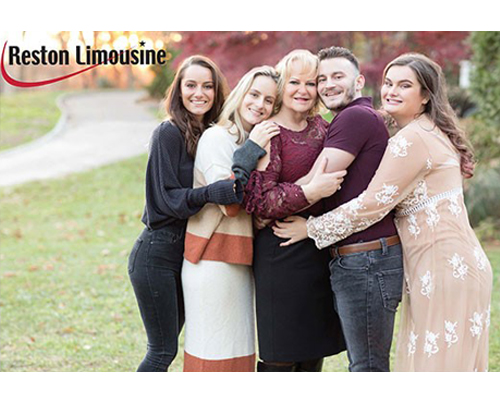 The Bouweiri family celebrates 30 years of Reston Limousine
Founded in September 1990 and helmed by President & CEO Kristina Bouweiri, the company quickly branched out from its corporate travel roots to include traditional retail work like weddings and proms, and later, government contract work. Reston soon began doing work for hospitals, universities, and large group events, not to mention other bus work like out-of-state shopping trips and winery/brewery tours. Currently, the company is one of the top 10 largest chauffeured transportation operations in the country.
Throughout its 30 years of business, Reston has been consistently honored by local and national organizations for high-end service and philanthropy. Awards received by the company include 2017 Best-Run Company by SmartCEO, Best Travel Experience by the Greater Washington Hispanic Chamber of Commerce, Favorite Limo Company or Car Service by LoudounNow, Best Limo/Car Service by Loudoun Times Mirror, and the winner of the CEO Report's 2018 Washington D.C. Velocity Growth Awards. Recently, the company was the first recipient of the Pinnacle of Safety Award at the inaugural Driven By Excellence Awards Ceremony held in February 2020 at the CD/NLA Show in Las Vegas. Over the past three decades, Reston has donated more than $1M in transportation services to charities and reputable causes since their start including Juvenile Diabetes, Wounded Warriors, Make-A-Wish Foundation, The Children's Inn at NIH, and many more. Bouweiri is also the founder of Sterling Women, a networking group that showcases women in business and hosts fundraising events.
"I couldn't have done it without the dedicated employees who have been a part of the Reston Limousine family over the years—which now includes my own children. My son Bill is our contract sales manager and daughter Katherine is our social media manager. With the support of our Reston Limousine family, I look forward to another 30 years in business," said Bouweiri in an email about the anniversary.
Visit restonlimo.com for more information.
[09.04.20]