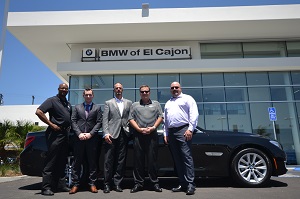 (L to R) Friedel Greene Corporate Livery Director for BMW of El Cajon, Marco Schnieder Key Marketing Manager for BMW of North America, Ron Mangseth General Sales Manager BMW of El Cajon, Dale Theriot and Rick Brown Owners of La Costa Limousine San Diego, Calif.— Fifteen black on black BMW 740Lis recently found a new home at La Costa Limousine, which serves the greater San Diego area. Co-owners Rick Brown and Dale Theriot began testing the 740Li with its customers several months ago and received a good reception, but the need to turnover their aging Town Car fleet made it imperative to make the major purchase.
"Our passengers are paying for a luxury service, and the BMW, especially the 7 Series, has that perception of luxury," says Theriot. He said that they looked at other sedan options, but they either lacked the room or the panache of the BMW. "It's a great car and our clients love the extra head and leg room. The trunk is even spacious." He says the vehicles have had an unexpected bump in fuel efficiency of an average of three miles per gallon when in ECO PRO mode (the gas-saving level of BMW's Driving Dynamics Control) over the old Town Cars. The fuel economy of the 740Li is rated at 19/29 mpg (city/highway). 
Brown and Theriot worked with Friedel Greene, corporate livery director, and Ron Mangseth, general sales manager, both of BMW of El Cajon, to secure the vehicles. Marco Schneider, key account manager for BMW's Limousine & Hotel Shuttle Program, was also involved and was able to offer additional incentives beyond those for livery customers thanks to the size of the purchase. A new program through the manufacturer includes tiered fleet discounts for multi-vehicle purchases, starting with as few as five cars. The current livery price for a single 740Li is $64,760 (additional dealer fees apply). 
La Costa has been in business since 1989 and has a diverse fleet of 55 vehicles.
Visit lacostalimo.com for more information. For more information about BMW livery incentives, contact Marco Schneider at Marco.R.Schneider@bmwna.com

[CD0614]