CoachRail, a cloud-based software for private transportation operators, has expanded its features to serve limousine companies as well as charter bus and hybrid companies.
"While working with our customers to provide the best software in the industry, we kept receiving one piece of feedback; namely, they wanted us to make changes so they could use CoachRail for the limo side of their business," says CoachRail Director of Customer Success Chris Roan.
Chris Roan of CoachRail
Roan notes that "The coach and limo software markets were very closely aligned, so we decided to meet the need head on. Through this effort, our customers are happier and getting more value out of CoachRail. At the same time, we've gained access to another 800 hybrid operators, increasing our domestic total addressable market by a good margin."
The CoachRail team added several new features to better meet the needs of limo operators. First, CoachRail has debuted new Smart Dispatch functions. The Smart Dispatch calendar will update automatically when users assign drivers and vehicles to a reservation, and the intuitive drag-and-drop feature lets users quickly make changes within the calendar itself. Since the Smart Dispatch calendar shows limousine and charter bus reservations in one place, hybrid companies can quickly update a single calendar and are less likely to double-book drivers or miss a trip.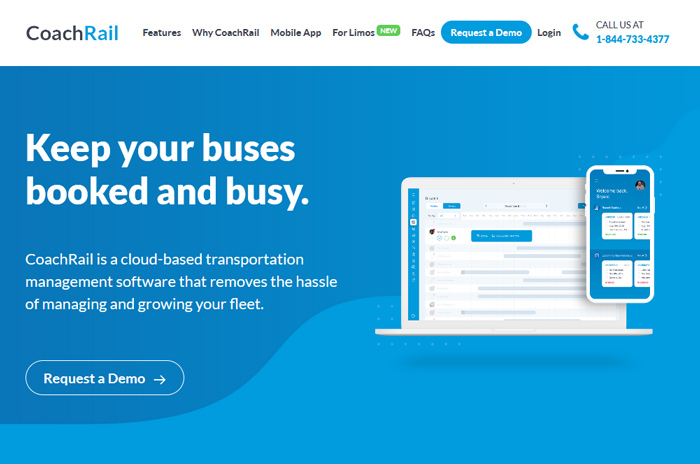 CoachRail has also made its state-of-the-art quoting tool more limo friendly. As users build a quote, they can select the limo or bus they plan to use, see the pre-loaded rates for that specific vehicle, and choose the rate that's most accurate for that trip. CoachRail will then generate a quick, accurate, customized quote and send it to the customer.
Finally, CoachRail has introduced one of the few mobile apps in the industry with a built-in tracking feature. Though tracking vehicles is important for all transportation companies, it's especially critical for limo companies, who often work with CEOs attending corporate events or couples spending a tremendous amount of money on a wedding. Limo drivers can now track their trips by pressing a few buttons on the CoachRail mobile app, and owner-operators can check CoachRail from the office or the road to instantly know where their drivers are.
CoachRail plans to add even more industry-leading features for our partners who own limousine companies or limo/bus hybrid companies. Owner-operators can visit coachrail.com to see the latest updates and to request new features they'd like to experience.
Visit coachrail.com for more information.
[09.28.20]