Each year, there are three surefire signs that autumn has arrived: the leaves are on the ground, pumpkin-spice flavor can't be escaped, and the CD/NLA Show is here. On November 17-18, we're proud to bring you our first online event, CD/NLA Virtual, which is now less than a week away! While we're certainly disappointed that the pandemic is keeping us from seeing our friends, colleagues, and peers in person, the CD/NLA Education Committee, co-chaired by Tracy Raimer of Windy City Limousine & Bus and Jason Sharenow of Broadway Elite Worldwide, has assembled an itinerary of sessions and speakers that is on par with our tried-and-true fall event.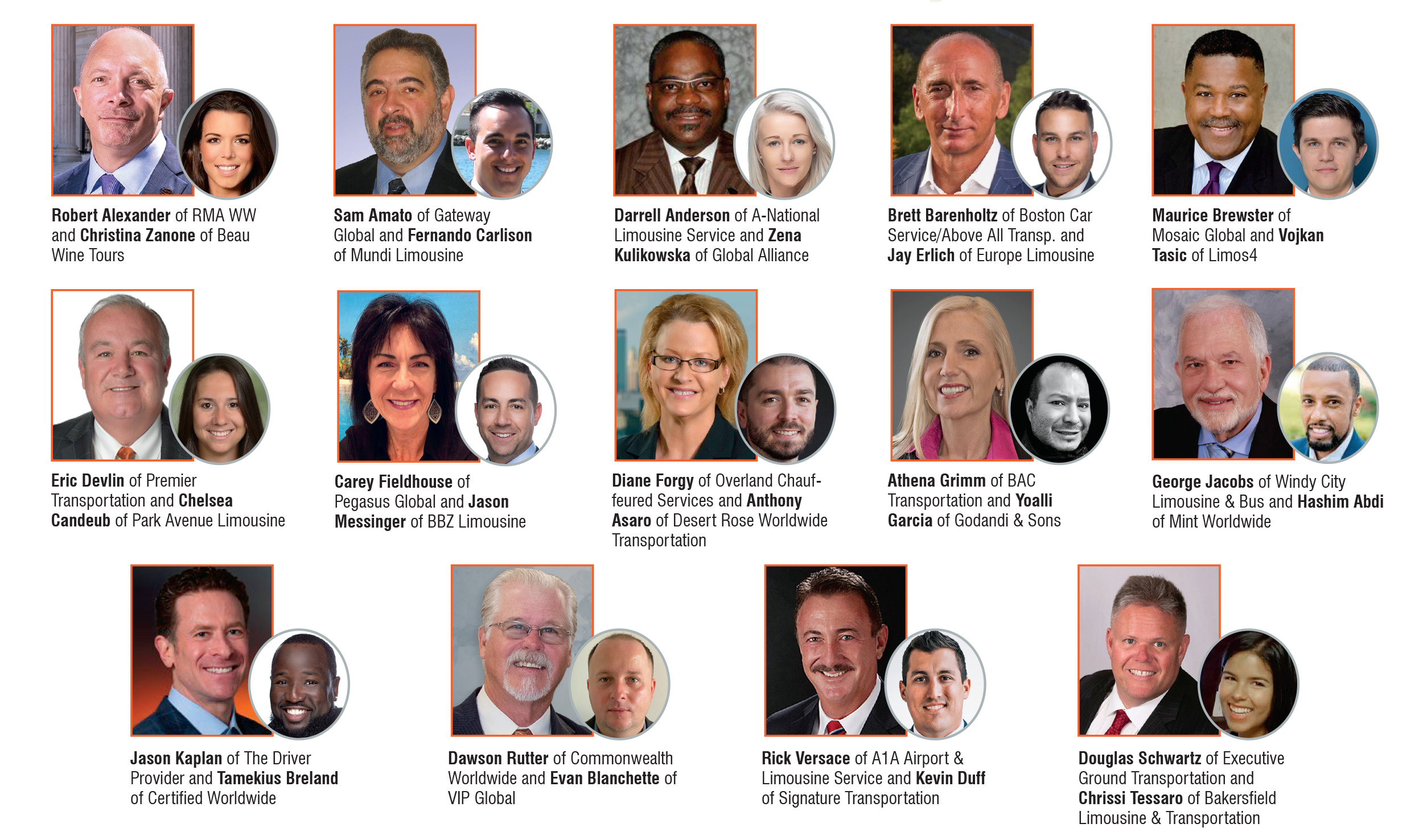 CD/NLA Virtual Mentor and NextGen duos
And speaking of tried-and-true, we know there is programming that you anticipate each year at our shows, which is why we're putting a virtual spin on the perennial favorite Operator Mentoring Program. Every year, operators register from around the world to spend some time learning and sharing with an industry leader. Mark your calendar for Wednesday, November 18 at 4:15 p.m., as we have 14 of luxury ground transportation's best and brightest who are looking to share their experience and best practices with you. And like last year, NextGen operators will be included in each mentor's virtual "room" to share their perspectives and help contribute to the dialogue. As each mentor-NextGen duo is limited to 15 attendees, the Mentoring Program requires pre-registration at cdnlavirtual.com and is available on a first-come, first-served basis.
This year's mentors and NextGens are:
Robert Alexander of RMA Worldwide/Christina Zanone of Beau Wine Tours
Sam Amato of Gateway Global/Fernando Carlison of Mundi Limousine
Darrell Anderson of A-National Limousine Service/Zena Kulikowska of Global Alliance
Brett Barenholtz of Boston Car Service/Above All Transportation/Jay Erlich of Europe Limousine
Maurice Brewster of Mosaic Global/Vojkan Tasic of Limos4
Eric Devlin of Premier Transportation/Chelsea Candeub of Park Avenue Limousine
Carey Fieldhouse of Pegasus Global/Jason Messenger of BBZ Limousine
Diane Forgy of Overland Chauffeured Services/Anthony Asaro of Desert Rose Worldwide
Athena Grimm of BAC Transportation/Yoalli Garcia of Godandi & Sons
George Jacobs of Windy City Limousine & Bus/Hashim Abdi of Mint Worldwide
Jason Kaplan of The Driver Provider/Tamekius Breland of Certified Worldwide Transportation
Dawson Rutter of Commonwealth Worldwide/Evan Blanchette of VIP Global
Douglas Schwartz of Executive Ground Transportation/Chrissi Tessaro of Bakersfield Limousine & Transportation
Rick Versace of A1A Airport & Limousine Service/Kevin Duff of Signature Transportation
Now, more than ever, is the time to benefit from operators who have made it through the toughest times—and to hear the great ideas that their NextGen counterparts are suggesting. Registration for the mentoring event closes on Monday, November 16. Don't miss out.  
In past e-news articles, we've discussed the classroom-type sessions and education at CD/NLA Virtual, but if you're more interested in open-forum discussions, we're also offering four different breakout sessions that let you learn in a looser, conversational online environment. On Tuesday, November 17 at 5:30 p.m., we have two different breakout sessions to choose from. The first deals with the always complex and ever-changing world of insurance, while the other session is a first for a CD/NLA event as we go Live From the Garage for a real-time maintenance discussion. On Wednesday at 1:00 p.m., we have another pair of breakouts geared toward learning from your peers. Our NextGen operators are back to discuss the challenges and advantages they face as the younger side of the business, while at the same time, the Ask the NLA Board breakout gives you a chance to get the lowdown on NLA initiatives and plans for the future. Moderated by NLA President Robert Alexander, this panel will feature a who's who of NLA Board members, including Gary Buffo, Laura Canady, Jeff Greene, Kevin Illingworth, Joe Ironi, Jason Kaplan, Tracy Raimer, Douglas Schwartz, and Rick Versace.

It wouldn't be a CD/NLA event without our world-class networking opportunities and fun. So, with that in mind, we're putting the finishing touches on an event that will bring a bit of the CD/NLA nightlife into your desktop. In addition to some rib-tickling entertainment, we're planning a spirited networking event–with emphasis on spirits—that will give you a chance to network in a Zoom setting with a group of randomly selected operators. Then after 15 minutes or so, our randomizer will place you in another room, so you can catch up with old friends or meet new ones.
As always, a special heartfelt thanks to our growing list of sponsors, including Platinum Sponsors Ford-Lincoln Limousine & Livery Vehicles and Lancer Insurance; Gold Sponsor Chosen Payments; Silver Sponsors Curtis Gabriel and Cadillac; and Bronze Sponsors Boston Car Service/Above All Transportation, The Driver Provider, and Dolphin Transportation Specialists. We thank you for your continued support of our events and industry.
Visit cdnlavirtual.com for more information.
[11.11.20]