Motorcycle enthusiast, adventurer, and philanthropist David Eckstein returns to the road on April 4 to raise awareness of the Semper Fi Fund. The Valera Global President will ride his motorcycle through 16 states, visiting friends, family, and limousine operators to spread the word about the charity.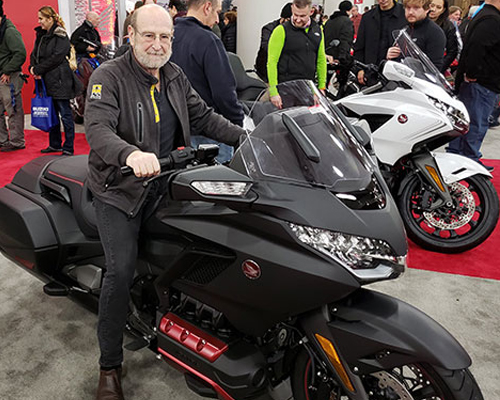 Valera Global President David Eckstein
The Semper Fi Fund provides support to post-9/11 combat wounded, critically ill, and catastrophically injured members of all branches of the U.S. Armed Forces, and their families, ensuring that they have the resources they need during their recovery and transition back to their communities.
This year's trek is special to Eckstein as he will be using the trip to visit his mentor of more than 40 years: Marine veteran Mario Magio.
"In my own small way, I'm continuing the Semper Fi Cross Country Motorcycle Charity Run," says Eckstein. "This year it's specifically to honor Mario Magio, a friend, an ally, and Marine who now lives in South Carolina with his loving wife Dolores. It was Mario who took me under his wing when I was a wild and crazy NYC taxi driver back in the 1970s."

Eckstein credits Magio with helping him pursue his dreams, and protecting him from less-than-scrupulous taxi characters back in the day. Magio was also key in helping Eckstein streamline his company's dispatch system as well as rebranding the firm as the industry moved into a more corporate marketplace.
"If it wasn't for individuals like Mario Magio, my life wouldn't have been as blessed as it's been. It is thanks to support, loyalty, and TOUGH Marines."
Eckstein has been recognized for his efforts in helping the Limo Patriot Ride raise more than $100,000 during its 5-year run. In 2013, he rode more than 10,000 miles, raising in excess of $12,000 for Wounded Warriors while traveling through 48 states and three Canadian provinces during a three-week period dedicated for the Wounded Warriors Project Charity. Eckstein is also a certified member of the Iron Butt Association for riding more than 1,000 miles in a 24-hour period.
To make a donation or learn more about Eckstein's ride, click here.   
[03.23.21]