On July 13, the New England Livery Association (NELA) hosted its first face-to-face event since March 10, 2020. Members met at Spinelli's Restaurant in Lynnfield, Mass., and the event was sponsored by Transport The People.

The meeting kicked off with NELA President Joe Cardillo of AOT Global, who welcomed attendees and introduced NELA Director Brett Barenholtz of Above All Transportation/Boston Car Service who congratulated operators for weathering the storm as they had done during 9/11 and the economic collapse of 2008. He encouraged operators not to fear increasing their rates during these times of rising costs, noting that top-shelf service deserves to be compensated appropriately. Barenholtz also cited the seven-figure MassDevelopment Transportation Infrastructure Enhancement Fund (TIEF) grant and thanked NELA Executive Director Rick Szilagyi of Lexian Management for securing it.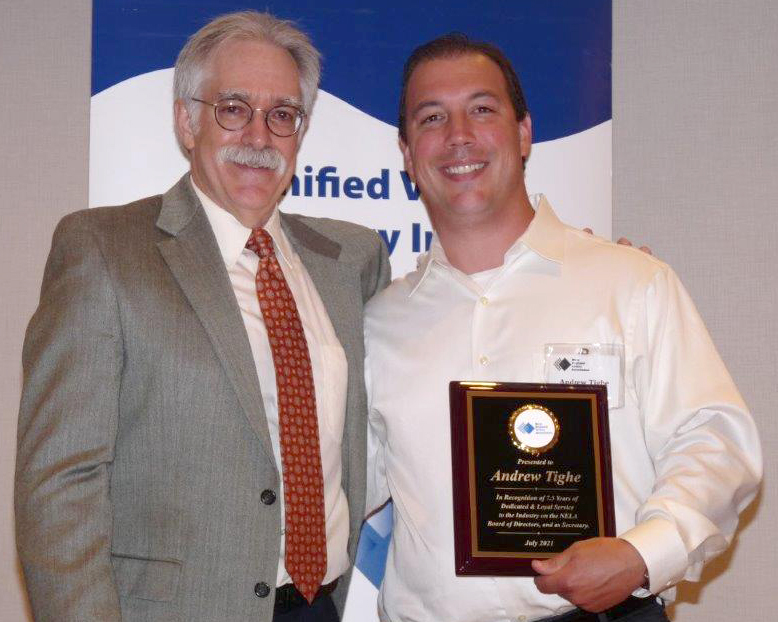 NELA Executive Director Rick Szilagyi (left) with Andrew Tighe of RMA Worldwide
Szilagyi then gave an association update, citing online events held since March 2020, spearheaded by Barenholtz and Director on the NELA's Board. These events included Cabernet and COVID, an opportunity for peers around the country to share COVID-related stories during a "cocktail hour." Another event was focused on pets of operators, Tales and Tails.
"We wanted to hold a face-to-face event, even though we expected a relatively light turnout due to the labor shortage issue impacting our members," said Szilagyi. "We had roughly half of the attendees we had prior to COVID, but those who joined us were thrilled to get back together with their industry friends. Many thanks to Transport The People for sponsoring the event, and we appreciate Corky Renzi's ongoing support of the NELA, especially during this challenging time when he just lost his brother and partner for 42 years, Joseph."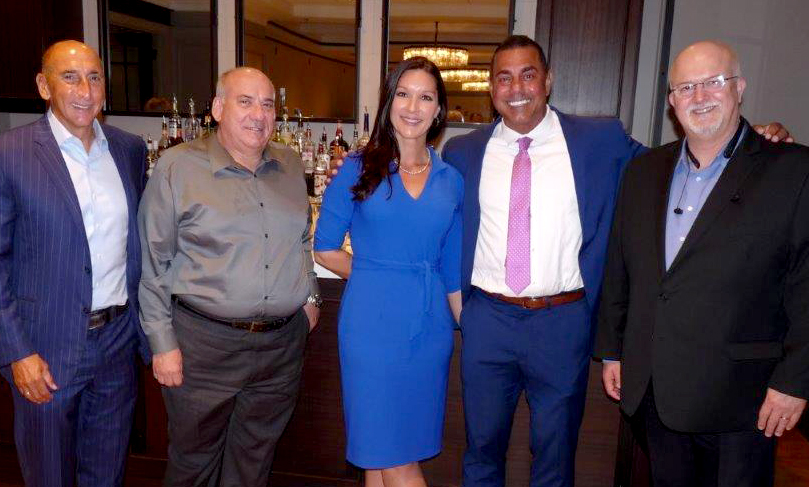 The NELA Board welcomed guests at their first meeting in over a year
Szilagyi cited programs about to be launched utilizing Massachusetts grant dollars, including marketing for the taxi and livery industries, which will be delivered by Curtis Gabriel and The LMC Group; a program by Billy Sheehan of Billy The Coach (BTC), which will provide online presentations as well as one-on-one coaching to maximize effectiveness through physical and mental health; HR education and training online as well as one-on-one by MassPay; defensive driver training through The Smith System; and DOT education and training by LBC Fleet.
Relative to the TIEF Fund, Szilagyi also stated that from his experience in corporate America, as well as his years working with small nonprofits through his little company, organizations often fail to look back on key elements that led to positive outcomes being enjoyed in the present. The TIEF fund is a result of the work done by the NELA through its lobbyists, since 2014. The resulting TNC legislation signed into law in August 2016 by Governor Charlie Baker, implemented in 2017, resulted in 10 percent of TNC drivers approved by companies like Uber and Lyft in Massachusetts to be refused a TNC permit after the Massachusetts Dept. of Public Utilities conducted its background checks. Additionally, a nickel from every TNC ride in Massachusetts has been going into the fund, and that is where the TIEF grant is provided its dollars. In addition to citing the strong legislative funding support by too few Massachusetts operators, Szilagyi shared his view that it is possible we would not be enjoying the individual grants received by operators, as well as that which the NELA has received, were it not for the tireless work done by Scott Solombrino during all of our legislative efforts and successes, including connecting the NELA with the leading lobbying firm in Boston, testifying at legislative hearings, speaking to the press, etc.
Before the meeting's end, Andy Tighe of RMA Worldwide was thanked and given a plaque commemorating his 7+ years of service as a director and as secretary on the NELA Board of Directors. Tighe thanked the membership for the opportunity and experiences he would not have enjoyed had he not been able to participate on the Board.
In addition, Barenholtz and his Above All Transportation/Boston Car Service business partner Kevin Cronin as well as Jon Bresler of Pro Limo pledged huge support of the NELA's Massachusetts Legislative Fund going forward. John Rockwell of Blackstone Valley Livery also joined in.
Visit nelivery.org for more information.
[07.20.21]