Portsmouth, N.H. — The LMC Group hosted a pre-launch event Aug. 13 at the One Hundred Club, which included speakers, discussions, and one-on-one sessions for a small gathering of operators and vendors representing regions throughout the country.

A number of speakers were on hand to address the key issues that livery companies are currently facing: Grace Limousine CEO and LMC Founding Partner Michael Campbell discussed the state of the industry; LMC Founder Kristen Carroll covered practices for effective risk management; Lenore D'Anzieri, former Driving Results co-founder and the new CEO of Cognizant Strategy Management, spoke about business-development trends in the current travel and booking climate; and Commonwealth Worldwide CEO Dawson Rutter talked about the National Limousine Association's white paper on transportation networking companies.

While the consulting firm is already available to offer its services, the daylong event provided the team at LMC with operator evaluations that ensure the organization is heading in the right direction before hosting a full launch.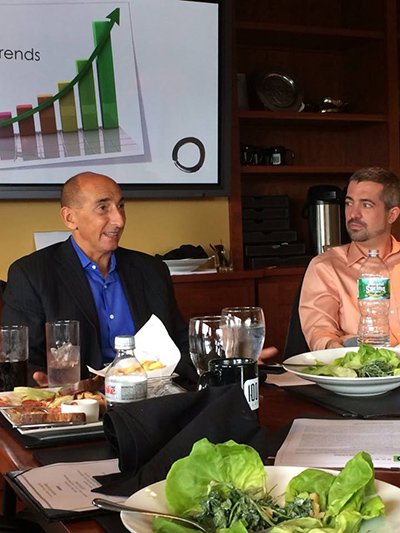 "We intended to have a very small group of some of the best folks in the industry, people that we have personal relationships with that can give us feedback on our content and help us even improve that, so that was a great success," Campbell says. "Everyone who was there gave really positive feedback as far as what they gleaned from the event."

The event provided networking opportunities, as well as discussions among the attendees themselves and sessions with the available consultants to address operators' most pressing concerns.

"Attending the LMC pre-launch event allowed me to connect with several expert consultants in a single day, all under one roof," says Derek Maxwell, CEO of Maxwell Unified Networks. "The intimate setting also placed me in the company of industry greats, allowing me to share in their successes and challenges."

The LMC Group was created to harness its consultants' range of experience to provide advice, guidance, and knowledge to companies within the transportation industry.

"I have a team of 10 consultants working with me, from all different backgrounds and skill sets, from within and beyond this industry, and we are well-positioned to help ensure this industry weathers the current storm of regulation and market infringement—and that it comes out stronger than ever," says Carroll. "We are also partnering with other great industry leaders to ensure that knowledge and resources are accessible to every operator, hoping to maximize their full potential and secure a solid and risk-free future."

While the event gave those in attendance a sounding board for their biggest challenges, Carroll feels that the pre-launch benefited her and the LMC Group, too.

"The passion that the owners and operators bring to their work is invigorating," she says. "I am so grateful to those who attended our pre-launch event. They helped shape our vision and mission, and I look forward to future opportunities to network, learn, and share inspiration."

Visit liverymanagement.com for more information.

[CD0814]