Toronto — The Canadian Limo Summit, the first-ever partnership between the Ontario Limousine Owners Association (OLOA) and Chauffeur Driven, proved that it found the winning combination of interactive educational sessions, a showroom filled with exhibitors, and a whole lot of networking opportunities.

The Aug. 10-11 event brought 150 attendees from all walks of the chauffeured ground transportation industry together at the InterContinental Toronto Centre, making for an intimate affair that facilitated new relationships and brought together familiar faces.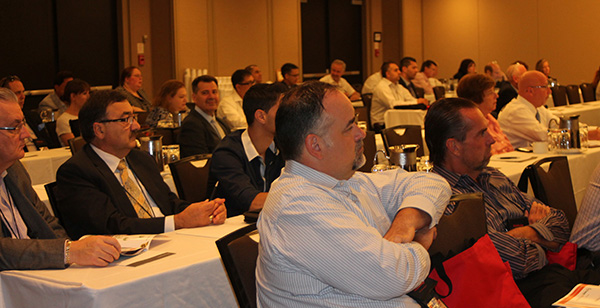 "I liked the smaller gathering because, as an affiliate manager, I'm there to network and get to know people," says Perry Barin, the West Coast affiliate manager for Music Express. "I was able to meet everybody one on one with 150 people, as opposed to a large-scale event where it's hard to talk to everybody."
The event was bookended by two friendly gatherings—an opening night reception sponsored by MV-1 Canada and a Grech Motors-sponsored scenic cruise on Lake Ontario aboard the Capt. Matthew Flinders—and packed three workshops brimming over with information between the two festive functions.
Following a breakfast sponsored by Battisti Customs and Macnab Transit Sales was the first of the day's sessions, "Customer Retention: Keeping Clients Engaged and Loyal by Exceeding Expectations," co-presented by Kyara Kahakauwila of LA Limousines and Mike Zappone of All Transportation Network. Kristen Carroll of Grace Limousine and The LMC Group then took to the podium to discuss "Employee Motivation & Retention: Creating a Happy and Healthy Environment that Increases Productivity." Jason Sharenow of Broadway Elite Chauffeured Services Worldwide served as moderator for all three of the day's workshops.
The hearty lunch sponsored by DUR-A-BUS Coach Builders offered a quick break before the Metro Toronto Convention Center flung open its doors for the showroom hours, where the likes of Battisti Customs, Creative Carriage, Fleetmatics, Grech Motors, MV-1 Canada, and VMT Enterprises put their products and services on display for all conference-goers to see.
Bill Battisti, president of Battisti Customs, had nothing but praise for his company's experience as an exhibitor and sponsor in such a close-knit, casual environment. "It was definitely a captive audience, and I felt like we got to show everyone there our product," he says. "No one hurried through because people weren't rushing around to go to the next thing. You were able to actually see the whole show in a day and take your time with the products and vendors."
After the exhibit came the third and final session of the day. Andi Gray of Strategy Leaders asked her audience "Are You as an Owner Demanding Enough of Your Business?" before the workshop turned to a truly interactive event as audience members sought Gray's guidance for ways to adapt to a post-Uber industry.
Naomi Glaser, senior vice president and founding partner of Valera Global, attended all three of the workshops and found them to contain a wealth of knowledge. "The seminars were interesting, informative, and interactive, and their success was due to the fact that the presenters were not only professing what they have found to be successful but also encouraged lively discussions where we all learned," she said.

With Brentwood Livery's new buses—built by Grech Motors—providing transportation from the hotel to the docks, a four-hour dinner cruise as the sun went down and the skyline lit up was widely hailed as one of the summit's highlights. Barin found the view to be "priceless, with the CN Tower and the city lights," while Glaser enjoyed the "delightful weather, drinks, and conversation."
"That was probably the most optimum choice of an event for closing the summit. It was just spectacular: The scenery, the food, the whole concept of a cruise rather than staying at a hotel in a room or something," OLOA Treasurer Phil Bozzeli says. "Doing the boat cruise for four hours, it kept everybody as a group together so they could mingle and socialize on the nicest ship in the whole harbor."
If you missed out on the Canadian Limo Summit, rest assured this isn't CD's only event for 2014: We'll be back this fall with our Atlantic City trade show and conference, which runs from Nov. 2-5 at the Trump Taj Mahal. In the meantime, check out our September issue for a full wrap-up about the Toronto event, and be sure to check out chauffeurdrivenshow.com for more information.

[CD0814]