As ECHO AFC, a Texas-based full-service ground transportation company, is celebrating its 30th anniversary by adding Van Hool CX45 Motorcoaches to its fleet as part of an overall 2022 order for nearly four dozen coaches. The company has been working with ABC Companies to secure their new fleet additions.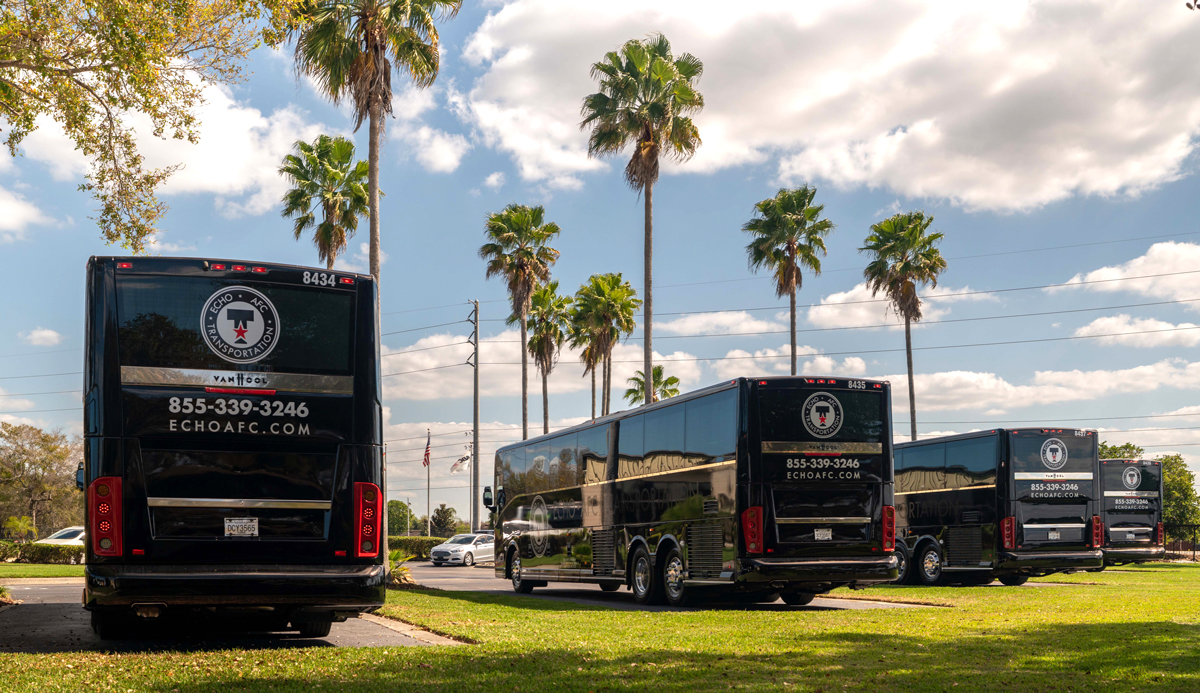 ECHO AFC purchases Van Hool CX45 Coaches
"Recognizing the value that every member brings to our team is central to the company's culture," said ECHO AFC President/CEO John Ferrari. "In conjunction with a continuous improvement mindset, we believe that our laser focus on elevating the customer experience has been essential to our success for the past 30 years. As we celebrate this major milestone, we are excited to expand our fleet with these current Van Hool models that enable us to offer all of the comforts, high performance, style, and safety features that customers appreciate and expect when they travel with our operation."
The new Van Hool models include several passenger safety, comfort, and signature ECHO AFC amenities such as full leatherette seating and enclosed parcel racks that provide a sleek interior look. The coaches also include a complement of integrated safety features including ACC/collision mitigation, interior security cameras, and 360 camera systems all designed to ensure a seamless, luxurious, and memorable passenger experience. Additionally, all new models feature a custom black on black reflective paint scheme that showcases the ECHO AFC brand, creating a cohesive and elegant signature look for the fleet.
"Consistency is key to our marketing and user-experience strategy," said Ferrari. "From the moment a passenger sees and then steps aboard any vehicle in our fleet, they will experience the same look, feel and level of luxury and comfort. This focus on uniformity and dependability also extends to the hospitality and professionalism customers can expect when interacting with every member of the ECHO AFC staff."
ABC Bus SVP of Sales Brenda Wordelman
The new coaches will be used primarily for charter service with professional sports teams, as well as university athletics, public or private school charter field trips, sports, educational outings, youth group transportation, and more.
"John and the entire ECHO AFC Transportation team emulate a passion for unparalleled customer service", said ABC Senior Vice President Midwest & Southwest Sales Brenda Wordelman. "Their attitude and dedication parallels ABC Companies' own focus on providing an excellent customer experience, which may explain why this leader in ground transportation has been a loyal customer with ABC for 30+ years. We are grateful and excited to support ECHO AFC's continued growth for decades to come."
Visit echotransportation.com for more info on ECHO or abc-companies.com for more details on the Van Hool line of buses.
[11.01.22]