Randolph, Mass.—For Marina Domenici, a bright-eyed and cheery 14-year old with Down Syndrome, her bucket list grew a little shorter last March as she finally got to attend her first Boston Bruins game in rock star-style, compliments of ETS International.
"The screech of excitement was deafening when she looked outside to see the limo pulling up," says Marina's mother, Lynn Domenici. Not only did Marina get a limousine ride and enjoy great seats at the March 3rd game, but she also got to meet the Bruins' mascot, Blades, and take a spin around the ice on the Zamboni. She was even given the opportunity to try on a Stanley Cup Championship ring.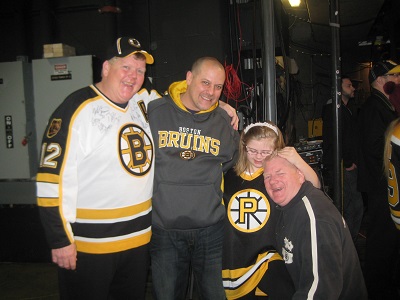 Marina Domenici enjoys her day with the Boston Bruins.

"My husband, Brian, was worried she would be too scared to ride the Zamboni," says Lynn. "But she smiled and waved to all the fans as she circled the ice. That unstoppable smile and enthusiastic wave will be etched in our memories forever."
John M. Greene, President of ETS International, says they were more than happy to help make one of Marina's wishes come true, as he has known the family for many years. "Marina just lights up every room she walks into," says Greene. "You'll never meet a sweeter girl and just to see the look on her face as she watched the game was a thrill for all of us."
Adds Marina's dad, Brian Domenici, who works as a Supervisor in the Ground Transportation Department of FM Global in Providence, R.I., "If you ask Marina about her night in Boston, the top of her list of thrills would be a night out with two great guys, Johnny and his brother, Peter. She has come to love them both, not because of the limos, hockey games or even Zamboni rides, but because Peter and Johnny treat her like part of their family. For us as parents we are grateful for the extraordinary opportunities that The Greenes and ETS have provided for Marina."
ETS' John Greene says the limo company has had a lot of famous people in their cars over the years, "but Marina tops the list."
Visit www.etsintl.net for more information.