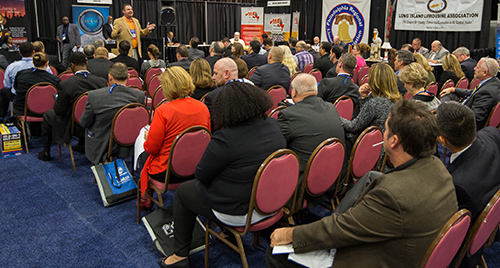 With less than four weeks to go until the Chauffeur Driven Show, it's time to make final plans on the events and sessions you don't want to miss. Look for information soon about our show app (sponsored by North Point Transportation), which will feature a full schedule of events, speaker information, maps, and a whole lot more. For a full schedule, click here .

Workshops, Seminars, and Micro-Sessions
Our educational program is one of our proudest features, and there's plenty of topics to whet every appetite. In addition to the industry's biggest pressing issues—including TNCs and the rapid evolution of technology—there will be sessions on improving your sales, implementing a quality-control system through mystery shopping, motivating employees, and maximizing your growth with buses and motorcoaches. Our interactive workshops, held on Sunday and Wednesday, are in-depth and hands-on sessions meant to engage you on every level. We'll also have traditional, lecture-style sessions held on Monday and Tuesday with bonus education on the show floor through our Micro-sessions (sponsored by Federal Coach / Krystal). Educational seminars and workshops are sponsored by FASTTRAK Cloud Livery Systems.

Special Events
Our exclusive Operator Mentoring Program returns on Sunday with additional mentors who will share their knowledge, tips, and tricks for finding industry success. This is a favorite with our attendees, so register quickly to get your choice of mentors. You need to be the owner of your company and purchase a full show pass to attend this event. Sponsored by  Don Brown Bus Sales and Grech Motors. Register here .

The State of the Industry Address is always one of our best-attended events (standing room only last year!), and this year promises to deliver. Our panel of experts include Cheryl Berkman, CEO and President of Music Express Worldwide; Dean DeBeer, CEO of Tristar Worldwide; and David Seelinger, CEO and Chairman of EmpireCLS Worldwide Chauffeured Services. It doesn't get any better than that!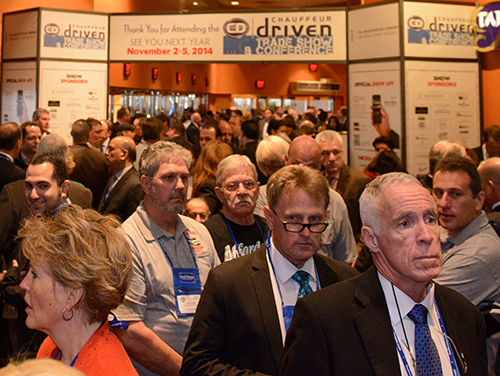 On Monday, we're thrilled to present Jim Donald, current CEO of Extended Stay America hotels and former Starbucks CEO, as our Keynote speaker. We've introduced you to him over the last few months through the magazine and on our social media, so make sure you attend this can't-miss event. Sponsored by  Grech Motors and Mosaic Global Transportation.

Don't forget that Tuesday, November 4, is our Affiliate Day, with sessions and events (our Affiliate Central Networking Forum, sponsored by A1A Airport & Limousine Service) specifically tailored toward helping you increase your affiliate business. If you're looking to score new affiliate partners at the show, we'll show you how to do it.

Nightlife
No one gets the party started like Chauffeur Driven, and we have three nights of excitement to make the long days worth your while. We kick off the week on Sunday night with our Night of the Living Dead party, sponsored by Battisti Customs. You've had enough of walking the kids around the neighborhood in their Elsa or favorite Teenage Mutant Ninja Turtle costume, so now it's your turn to have a little adult fun. Dress up in your most spooktacular costume and enjoy some libations and finger foods while our DJ spins some tunes. Prizes will be given for best costume.

It's no secret that the Chauffeur Driven Show is heading to Nashville next June for an Executive Retreat, so we're getting the party started a little early with our Rockin' Roundup on Monday, sponsored by  Meridian Specialty Vehicles and Premier Transportation. You'll have a heck of a time dancing to the music of our live band, chowing on some barbecue, and drinking some ice-cold brews. Cowboy boots and hats optional but highly encouraged. Yeehaw!

Tuesday will be a test of your endurance with our Charity Auction followed by our After-Hours Suite Parties. The night starts off with a buffet-style dinner at our Charity Auction, where we'll have tons of great items to bid on through our chance, silent, and live auction. All proceeds will benefit a really cool organization, the Ryan Seacrest Foundation. The Charity Auction is sponsored by EmpireCLS.

Ready to keep the party going? Cruise on over to the 14th floor of the Taj for some incredible suite parties. There will be tons of drinks and plenty of conversation to last into the wee hours of the morning. Parties will be hosted by ETS International, Flyte Tyme Worldwide Transportation, Minority Limousine Operators of America, Rental Limo, and ZBest Executive Global Transportation Services.

Show Floor
Of course, we've saved the best for last. Shop all of the industry's latest technology, insurance, vehicles, marketing, and products all on one floor. This is your opportunity to talk one on one with all of the industry's hottest vendors and possibly even score some sweet show-only deals. You'll definitely want to take your time here, so for a full list of exhibitors click here. Don't forget to swing by our Association Pavilion, sponsored by Chosen Payments, for a chat with a dozen of the industry's strongest associations.

With just weeks to go, there's no time to waste. Make sure you're fully prepared for what the Chauffeur Driven Show has to offer so you can maximize your time and get the best return on your investment. Remember, there's  #only1choice this November!

[CD1014]