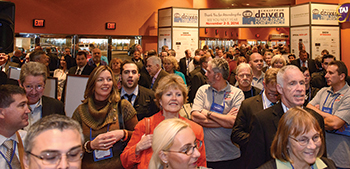 Atlantic City, N.J. — You are less than a week away from the industry's most exciting show on the East Coast, the Chauffeur Driven Show. This is our final event at the Taj Mahal, so help us send the casino out in style! We've been giving you updates for months about all of the great happenings we have planned for you, so now it's time to remind you about some last-minute details.

Save time and register before the show
If you haven't registered yet, you can still take advantage of our $549 full show passport prior to the show, which includes a 4-day show pass, 3 nights at the Taj, and all of the parties and events that you want to attend. Registering now means you can grab your badge at our registration area and get going.

Download your official show app
We're still putting the final touches on the app, but you can go now to your Google Play or Apple Store to download it for free. Search for Chauffeur Driven Show 2014. Register all your deets in the app so you can easily share with other attendees and exhibitors. You can tailor your own schedule to highlight events you don't want to miss. The app also features the most up-to-date schedule, information about the speakers, and ways to live tweet directly from the app (don't forget to use our hashtags #only1choice or #ChauffeurDriven). You'll also get special messages and reminders so that you don't miss a thing.

Join us for our International Meet & Greet
You already know that expanding your affiliate business is one of the top priorities of Chauffeur Driven, so take advantage of the opportunity to mingle with operators from all over the world at our International Meet & Greet. This event will take place Monday, November 3 at 8:30 am. Thanks to sponsors Global Alliance Worldwide Chauffeured Services, Icona Global, and Modern Chauffeured Services Worldwide.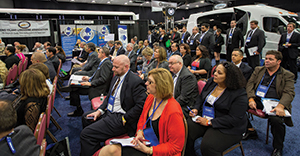 Florida Limousine Association to host meeting
The association from the Sunshine State (and future location of our 2015 Chauffeur Driven Show in Miami Beach) will be holding an open meeting at the show on Monday, November 3 at 8 pm in the Diamond Ballroom D.

Must-see Monday
You already know that Tuesday is Affiliate Day, but have you checked out the schedule for Monday? We have a trifecta lineup in store that begins with our all-star Uber/TNC Panel Discussion, featuring Al LaGasse of TLPA, Matt Daus of IATR, and Mike Fogarty of Tristar Worldwide (and new president of TLPA). The State of the Industry follows, where new trends in corporate and global travel will be discussed by Cheryl Berkman of Music Express Worldwide, Dean De Beer of Tristar Worldwide, and David Seelinger of EmpireCLS Worldwide Chauffeured Services—along with a healthy dose of TNCs thrown in for good measure. All of the aforementioned people are on the pulse of what's happening in our industry, so you will leave with lots of excellent information to help your own business. After a bite to eat, we're thrilled to present our Keynote Address with Jim Donald, current CEO of Extended Stay America and former CEO of Starbucks. He will inspire you with lots of humor and anecdotes about his unique leadership style.

Be sure to follow us on Twitter at twitter.com/Chauff_Driven, on Facebook at facebook.com/ChauffeurDriven, and on Instagram @chauffeurdriven. We'll be posting updates at the show, and we hope to see yours, too!

[CD1014]