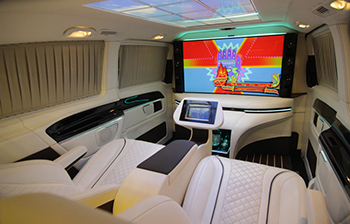 South Hackensack, N.J. — HQ Custom Design, a Mercedes-Benz Sprinter Preferred Upfitter, was recently given the opportunity to create a concept van exclusively for the German automaker. And when the company delivered its final product, the 2016 Mercedes-Benz Metris, to November's SEMA Show, the vehicle made quite an impression on the industry.

HQ Custom Design takes an innovative approach to customizing Sprinter Vans and Cadillac Escalades that results in unique, high-quality designs, which got Mercedes-Benz's attention and helped the manufacturer land this prestigious opportunity.

"Building a concept vehicle is much different from building one for a client," says Lenny Levin, vice president of engineering and research development. "You are truly able to implement the vision inside your head into a reality and are not bound to the specific customer requests. The fact that we were the only Mercedes-Benz Sprinter Preferred Upfitter who was selected made it even more of an incentive to create something spectacular and innovative."

Despite its cutting-edge design, the midsize luxury van retains the time-honored beauty of a Mercedes-Benz vehicle, and offers a smattering of modern touches that make it a distinctly appealing retro-classic. Comfort, convenience, and high-tech equipment are all major features of the Metris, the concept of which was designed and created from scratch and without the use of any shelf products—including touch-screen passenger controls that Levin says any passenger will understand how to use almost immediately.

"We have made probably the most convenient and intuitive control panel," he says.

The two captain chairs, which were custom-built with superior comfort in mind and can recline to a fully supine position, feature double-action leg extensions that are operated by the 7-inch touch-screen control and fixed-control table in the gooseneck. The seats, along with the interior walls, are upholstered in European leather and suede. The vehicle also boasts ambient LED lights and a 55-inch LED TV roof panel, a 48-inch curved 4K TV installed in the front partition, audiophile surround sound (which are all controlled by the touch screen), and teak wood flooring.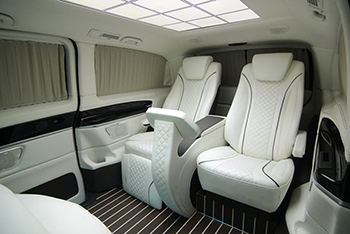 The Metris even has a few unique surprises in store for its passengers, too, beginning with a roof panel that offers an infinite possibility of moods with its pre-loaded images—according to Levin, "a blue sky with moving clouds, a night sky with stars, fireworks, or any custom moving screensaver that the customer wants" are just a small sampling of available options—as well as a camera so passengers can see outside as if they were looking through a moon roof. But the special flourishes don't stop there.

"I wanted to create a luxurious vehicle with a relaxing atmosphere where someone can enjoy lunch with a glass of wine from the vehicle's picnic basket," Levin says. The vehicle's built-in, dark-wood picnic basket, which is safely nestled in a nook between its rear subwoofers and closes with a decorative latch, could also be packed with a meal that would complement a cup of espresso or cappuccino—as the Metris conveniently features a cappuccino maker hidden inside its front console.

As Levin is not only a car lover but also a boat enthusiast, much of the Metris' design was inspired by wanting to create a "yacht on wheels."

"In cars and yachts, the biggest challenge for designers and engineers is maximizing and utilizing the space around you," he says. "The vision behind this van was to create a true yacht-like experience. That is why we implemented a white interior with brown suede, ebony trim, and teak flooring to create a look that is modern with an art deco design."

The Mercedes-Benz Metris Luxury Van Concept needs to be experienced in person to be truly appreciated, and can be seen at HQ's facility. "Please contact us to see this one-of-a-kind vehicle, take a plant tour, and see firsthand what separates our vehicles from the competition," says Levin. HQ Custom Design can be reached at (201) 592-6939 or info@hqcustomdesign.com, and is located at 275 Huyler Street, South Hackensack, NJ, 07606. Visit hqcustomdesign.com for more information about the Mercedes-Benz Metris Luxury Van Concept and additional Mercedes Sprinter luxury and commercial projects.

[CD0115]