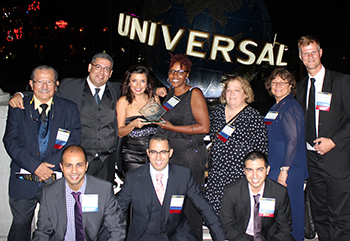 Members of the Destination MCO team attended the GrowFL Florida Companies to Watch awards gala. Top row (L to R): Ambassador Chauffeur Luis Luzuriaga, Dispatcher Nelson Cobos, Meeting and Events Manager Dana Cross, Dispatcher Vantressa Nichols, Ambassador Chauffeur Anna Alvarez, HR Manager Rose Lawson, and Field Supervisor Hans Hoekstra. Bottom row (L to R): Operations Manager Sean Gara, CEO Nour Elotmani, and VP of Operations Sami Elotmani Orlando, Fla. — Destination MCO was among 50 companies honored from a variety of industries all across The Sunshine State in GrowFL's annual Florida Companies to Watch awards on October 23.

The awards, held for their fourth year in 2014, recognize privately held second-stage companies (businesses that have grown past the startup stage) that demonstrate "the intent and capacity to grow based on employee or sales growth, exceptional entrepreneurial leadership, sustainable competitive advantage, outstanding corporate culture, [and] inspired community giving," according to the GrowFL website. More than 500 statewide nominations were winnowed down to 50 winners for the 2014 awards.

"The main goal of the awards is to help second-stage companies take it to the next level," said Sami Elotmani, Destination MCO's VP of Operations. "It's a very prestigious award for small companies that are growing rapidly, and it shows the amount of energy and resources we have spent in making sure that we're doing the right thing."

Destination MCO has been nominated for the award once before. A nomination is the first of a two-step process: Once a company has been recognized, it must provide additional information and records to make sure the operation is in accordance with award criteria.

This year's nomination came from the Small Business Development Center (SBDC), which Destination MCO had been working with. Elotmani says that the win is both an honor and a testament to the quality of the company's team.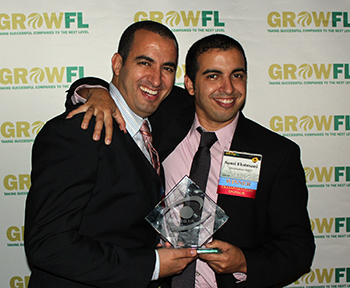 Destination MCO's President and CEO (left) Nour Elotmani and VP of Operations Sami Elotmani "Obviously, this is something we could not have achieved without our team," he said. "It's something that we took very seriously, and we dedicated the award to our team because, without them, we wouldn't have achieved this."

Many Destination MCO employees attended the awards gala, which was held at Orlando's Hard Rock Live, as did the other winning companies' teams, VIPs, and members from both GrowFL and SBDC.

"Some of the counselors from the GlowFL community who worked with us and a consultant who worked with us at SBDC were there to see us receive the award," Elotmani said. "When we attended the gala, we brought along some employees who represented all of our departments—chauffeurs, office staff, dispatchers, and managers—because we won the award together."

Visit destinationmco.com for more information.

[CD0115]