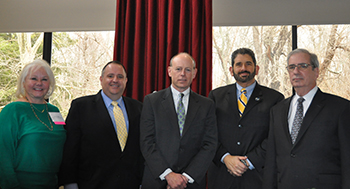 LANJ 2015 Board of Directors (L to R): Secretary Karen Gajda of Country Club Transportation, First Vice President Jason Sharenow of Broadway Elite Chauffeured Services Worldwide, Treasurer Jon Epstein of Royal Coachman Worldwide, President Jeff Shanker of A-1 Limousine, and Past President Jim Moseley of TripTracker (not pictured: Second Vice President David Seelinger of EmpireCLS Worldwide Chauffeured Services) Princeton, N.J. — The Limousine Association of New Jersey (LANJ) held its annual membership meeting on January 21, which saw a packed house of 85 members in attendance.

Among the many business matters the association tended to at its first meeting of 2015 was electing its new Board of Directors, which is as follows:

President: Jeff Shanker of A-1 Limousine
First Vice President: Jason Sharenow of Broadway Elite Chauffeured Services Worldwide
Second Vice President: David Seelinger of EmpireCLS Worldwide Chauffeured Services
Secretary: Karen Gajda of Country Club Transportation
Treasurer: Jon Epstein of Royal Coachman Worldwide

Outgoing President James Moseley of TripTracker recognized and thanked the association's many vendors for their support and sponsorships. He also welcomed the newest honorary board member, Philadelphia Regional Limousine Association (PRLA) President Steve Rhoads of Rhoads Limousine, saying that LANJ and PRLA have benefited from an "interactive, cross-border relationship" for a number of years.

Moseley also expressed his gratitude for "the opportunity to work with you all as your LANJ president" and reported on LANJ's major accomplishments in 2014, which included: achieving a membership of 112 companies, the most in LANJ history; taking the TNC fight full-force to Trenton; installing the LANJ Line to the benefit of operators; establishing the 2015 Sponsor Title Program to benefit vendors; ensuring that the LANJ website is a frequently updated tool to assist members with their needs; upping the LANJ E-News publication frequency from monthly to semimonthly; and establishing the new Membership Committee. LANJ has also formally changed its name to reflect the singular "Association," indicative of its unified mission as a statewide organization.

Newly elected President Jeff Shanker of A-1 Limousine then spoke of the association's ambitious plans for 2015, introducing the new lobbying firm that the executive board hired to aid in the fight against TNCs, the Kaufman Zita Group, an established bipartisan organization based in West Trenton.

The TNC bill AB 3401 had been combined into Assembly Committee Substitute (ACS) 3765, which passed through the Transportation Committee in December. "We have to remain focused," Shanker urged members in attendance. "The fight, to a point, is still in the Assembly but it's not with the Transportation Committee. It's now grassroots, boots-on-the-ground: We have to get out to all of our elected officials. That means that we need you." He added that the association will be looking to its members "for significant input" when it comes to LANJ's legislative efforts and taking its fight to the Senate.

And LANJ members are already heeding the call for all hands on deck, with more than $5,000 being spontaneously pledged at the meeting to help fund the association's PAC. Shanker says that the association will need quite a bit more throughout the year to accomplish what they have planned.

Shanker also outlined a number of goals that LANJ has put into place for the upcoming year, which include strengthening its relationship with local and national transportation associations, as well as establishing the likes of social media, marketing, education, and technology committees internally.

Chauffeur Driven's Editors Susan Rose and Madeleine Maccar both attended the meeting. Maccar offered an update on the upcoming Executive Retreat in Nashville and show in Miami, and raffled off a show pass to the Miami show, which was won by Billy Placier of Music Express Worldwide.

The next LANJ meeting will be March 25.

Visit lanj.org for more information.