San Diego, Calif.--Carter Read, president of Newport Coachworks and AJ Thurber, general sales manager for Don Brown Bus Sales, proudly unveiled Newport's first F550 shuttle bus at Tuesday night's Greater California Livery Association (GCLA) meeting in San Diego.
"It is with great pride that we have unveiled our first shuttle bus," says Read. "Our product line is a culmination of six months of R&D and engineering, coupled with the latest in fiberglass technology. It is our goal to lead the shuttle bus market through innovation and delivering the highest quality products, at an extremely competitive price point. We chose Don Brown as our exclusive distribution arm because of its extensive marketing efforts, industry support, and 40-plus-year reputation of stellar service and after-sale support. With Don Brown as our partner, the Newport Coachworks production team can focus 100% of our efforts on engineering and manufacturing the industry's premier bus products."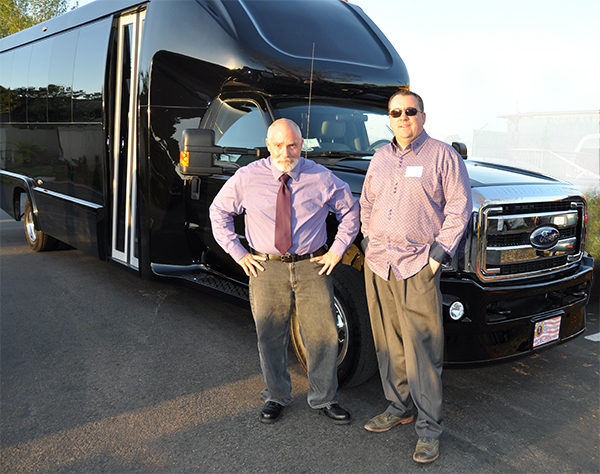 Carter Read (left) and AJ Thurber display the new F550 shuttle.

Thurber says that is was an amazing day for both companies. "The teams of Don Brown Bus Sales and Newport Coachworks have put a tremendous amount of effort into this product line, and the response to the first bus was overwhelming. The seamless fiberglass body design left those in attendance awe struck. The bus will start rolling off the production line within the next several weeks and we are loading up our pipeline to be able to accommodate the significant demand that we have received for it. We are currently taking pre-orders and our sales reps will be hitting the road for onsite demonstrations at clients' locations soon."
Newport has other vehicles in the works as well. Read notes that Newport's first E450 and Freightliner will also roll off the production lines in May. Don Brown Bus Sales is the exclusive dealer for Newport Coachworks.
Call Don Brown Bus Sales at 855.546.6060 or visit donbrownbus.com for additional information.