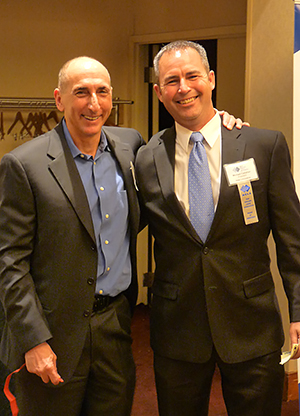 Brett Barenholtz (left) of Boston Car Service, who won the meeting's 50/50 raffle and donated his winnings back to the NELA Massachusetts Legislative Fund, and NELA President Michael Callahan of Able Limousine Boston — The New England Livery Association (NELA) held its spring quarterly meeting on March 10 at Logan Airport's Embassy Suites. Like the association's February 17 ad hoc meeting that introduced new initiatives and allies, much of the March meeting was dedicated to outlining NELA's efforts to combat the ongoing challenges that TNCs are presenting to the livery industry.

In its pursuit of a level playing field for all transportation companies, the association has hired a team of Massachusetts-based lobbying and PR firms, all of whom were represented at both the ad hoc and membership meetings: public affairs and government relations firm Travaglini, Eisenberg & Kiley, as NELA had previously worked with Robert Travaglini several years ago; lobbying firm Murphy Donoghue Partners; and government/community relations and business development firm The Nolan Group.

"I think the battle really is waged through dealing with legislators and I think the best way to do that is with professionals who know how to play the game," said NELA Executive Director Rick Szilagyi. "I think that hiring lobbyists and PR firms, while expensive, is a necessity."

Because NELA's general operating fund can't cover the costs of outside support on its own, NELA is establishing state-by-state legislative funds. Thirty association members are currently contributing to the Massachusetts fund; a second state fund is also gaining traction, which will help pay government relations and lobbying firm The Mayforth Group to represent NELA in Rhode Island. NELA President Michael Callahan of Able Limousine issued a general appeal for members to help fund the association's legislative efforts.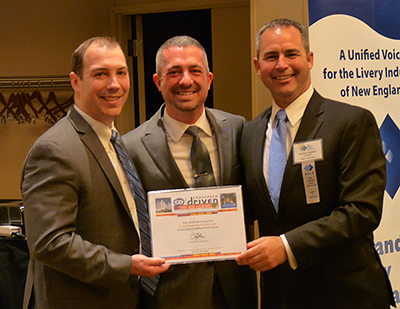 L to R: NELA Secretary Andy Tighe of Tristar Worldwide, Mike Campbell of Grace Limousine, and NELA President Michael Callahan of Able Limousine NELA is also finding a viable partnership with Massachusetts-area taxicab operators. "We really should be able to partner with taxi companies—especially now because, even working with taxis, going up against TNCs is like David and Goliath," Szilagyi said. "If livery and taxi companies operate as they're supposed to, we really shouldn't bang into each other too much, anyway."

Representatives from meeting sponsor New England Ticket Fairness Alliance were on hand to speak to NELA members. The alliance is dedicated to both increasing transparency and creating an open and competitive market in the ticket industry, and was seeking NELA's support in its own lobbying endeavors.

A pass to Chauffeur Driven's Miami show was raffled off, which was won by Mike Campbell of Grace Limousine. The association also had a 50/50 raffle; Brett Barenholtz of Boston Car Service won and donated his winnings back to the Massachusetts legislative fund.

The next NELA membership meeting is scheduled for June 9.

Visit nelivery.org for more information.

[CD0315]