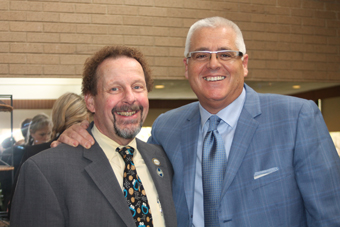 Chauffeur Driven's Industry & Brand Ambassador Philip Jagiela (left) and LANJ Second Vice President David Seelinger of Empire CLS Princeton, N.J. — On March 31, the Limousine Association of New Jersey (LANJ) convened for a meeting that focused primarily on the encouraging headway the organization has made in its recent legislative efforts.

After Brian Engle of meeting sponsor Wolfington Body Company and Shane Tom of Turtle Top spoke about their products and services, LANJ President Jeff Shanker of A-1 Limousine announced that the association "has made significant progress" since the end of 2014.

"If we had accomplished about 30 percent of what we wanted to in December, we're at about 70 percent now," Shanker said of LANJ's goals for TNC regulations. "We might get to 90 or 95 percent but we'll keep pushing for 100 percent."

The meeting followed closely on the heels of A-3765's passage in the state Assembly Transportation Committee on March 19. While LANJ ultimately opposed the bill because it doesn't address all areas of the association's TNC safety concerns, members have been working with the likes of Assemblymen John Wisniewski and Joseph Lagana to make amendments to the bill before its upcoming Senate vote.

Shanker recognized and applauded the boots-on-the-ground efforts of several LANJ members, as well as lobbying firms The Kaufman Zita Group and Princeton Public Affairs Group, imploring all in attendance to continue supporting the industry by going to their districts' legislators.

"We need you to go to your elected officials and let them know why we're standing in front of them," he said. "They know my face: Now they want to see yours."

The traction LANJ has gained by addressing the safety concerns that unregulated transportation companies present has opened the door for discussions with elected officials about the need for a level playing field. The association has provided its members with two documents to assist them in their arguments: a side-by-side analysis of New Jersey's limousine laws and the considerably less demanding requirements currently in place for TNCs, as well as a letter explaining why LANJ opposed A-3765.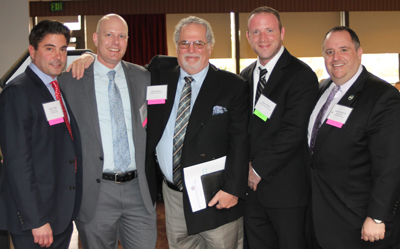 (L to R): LANJ Director Barry Trabb of Complete Fleet & Limousine Sales, Chauffeur Driven Publisher Chris Weiss, LANJ Director Bob Schiavo of Albert's Transportation, Brian O'Neill of Wolfington Body Company, and LANJ First Vice President Jason Sharenow LANJ's PAC Chair Peter Corelli of Lakeview Custom Coach asked for members and supporters to help refill the association's coffers, as fighting for regulation comes at a financial cost. "Whatever it takes, we need to do this," he said. "We'll keep fighting the fight but our funds are getting low."

To increase member involvement, LANJ has created a few internal committees. The Membership Committee, co-chaired by Jon Epstein of Royal Coachman Worldwide and Barry Trabb of Complete Fleet & Limousine Sales, and the Social Media Committee, co-chaired by David Seelinger of Empire CLS and Jennifer Wong of DriveProfit, reported on both committees' efforts to bolster membership numbers and association recognition. The Merchandising Committee's recent formation was also announced, which will be spearheaded by Chris Stochholm of New Jersey Limo Finder as a way to both show support for LANJ and get its name out.

Chauffeur Driven Publisher Chris Weiss spoke toward the end of the meeting, announcing the recent addition of Industry & Brand Ambassador Philip Jagiela to the CD team and discussing the newest developments in both June's Executive Retreat in Nashville and October's Miami show. Jagiela, as well as Editor Madeleine Maccar, also attended the meeting.

LANJ's next general meeting is scheduled for May 13 and will coincide with the association's annual auction, which has raised about $132,000 for LANJ over the course of its 11 years.

Visit lanj.org for more information.

[CD0415]