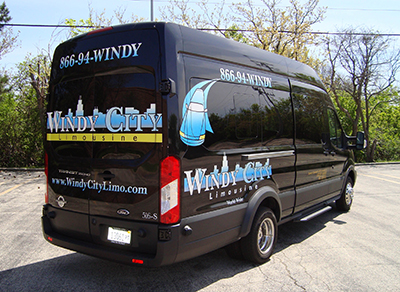 Windy City Limousine's new Transit, modified by Battisti Customs Chicago—When George Jacobs, president of Windy City Limousine, heard that the new Ford Transit was going to be available as a limo van in North America this year, he quickly placed an order for the very first one.


"I'm very proud to own the first Ford Transit limo in the U.S.," Jacobs said. "It's a slick vehicle. It's a Ford, so you have the immediate confidence factor. It's less expensive to put together than an eight-passenger limousine, and it has more seating and more amenities. I really think this vehicle is going to take off."
Battisti Customs of Elkhart, Ind., converted a black Transit high-roof, extended wheelbase cargo van into the luxurious 13-passenger limo van. It features a wood floor, black leather couch-style seating, two flat-screen TVs, and a bar. There's also plenty of headroom so passengers can comfortably walk to their seats.
Bill Battisti, president of Battisti Customs, estimates that the Transit limo van will cost at least $10,000 less than other limo van alternatives and "fuel savings will be significant." Transit is available with a choice of three engines, the standard 3.7-liter V6, an available 3.5-liter EcoBoost® or 3.2-liter Power Stroke® diesel. Transit low- and medium-roof regular wheelbase wagons with the standard 3.7-liter V6 or the EcoBoost engine get a 14/19 mpg (city/highway) EPA-estimated fuel economy rating (the available 3.2-liter Power Stroke diesel is not EPA-rated).
Jacobs said that the Transit limo will fill an important niche between traditional limousines and party buses. He expects it to be popular for a wide range of customer applications, including weddings and proms; group outings to concerts, sporting events and the theater; and for use by destination management companies.
"This is something with pizzazz," he said. "Customers won't forget it and they'll want to book it again. If our first Transit limo van starts to sell out like I think it will, then I'm going to buy many more."
Operators can order Transit wagons for typical shuttle applications in addition to Transit limo vans. Transit wagons are available in three roof heights and three body lengths with seating for eight, 10, 12, and 15 passengers. In addition to Battisti Customs, Tiffany Coachworks of Corona, Calif., and Executive Coach Builders of Springfield, Mo., have built and sold their first Transit limo vans as well.
Visit
windycitylimos.com
for more information.
[CD0515]