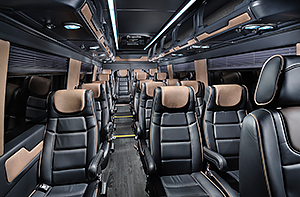 Interior of an Executive Livery Sprinter Trussville, Ala. — McSweeney Designs, a division of McSweeney Holdings, LLC, recently completed a major expansion on its facility—now totaling more than 100,000 square feet—to accommodate its full commitments to serving the pinnacle luxury and upscale livery transportation industries.

McSweeney is a recognized world leader in lifestyle enhanced luxury automotive design, engineering, and manufacturing. With nearly 40 years of successful innovation in 2nd stage luxury automotive manufacturing—and with over 100,000 vehicles on the road under the combined brands of the McSweeney Holdings portfolio—the company has a strong heritage of working directly with top-tier OEMs to provide consistent leadership and design innovation to the custom automotive industry. McSweeney Designs is also an elite member of the MasterUpfitter program for the Mercedes-Benz Sprinter and Metris and is an authorized Specialty Vehicle Manufacturer (SVM) for General Motors vehicle platforms.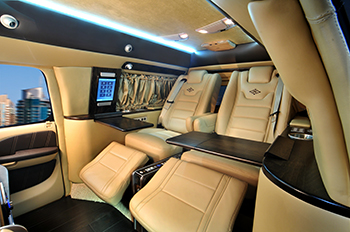 Interior of an XUV Suburbalade, built on a Cadillac Escalade McSweeney Designs has now extended its refined vehicle portfolio to include a full range of best-in-class luxury coaches, executive lounges, and upscale livery shuttle bus solutions. The company has been commissioned to build vehicles for a wide range of clients, including Middle East and North/West African heads of state, titans of international trade, as well as high-profile custom performance automotive enthusiasts like 4-time National Championship Winning Coach Nick Saban of the University of Alabama.

Along with its facility and product line expansion, the company says it has been intentionally recruiting the best of the best talent from all segments of the industry to enhance its sales force, customer service, after-sales support, and production teams to better serve its exclusive dealer network.

With the direction of its founders Rod McSweeney, Matt McSweeney, and Michael McSweeney, and under the management of COO and industry veteran Vern Kauffman and XO Executive Officer/Brand Manager Jeffrey C. Hunter, McSweeney Designs says it is now more poised than ever to emerge as the trusted source brand of luxury and livery vehicle upfitter for top-tier executive transportation operators and select corporate clientele.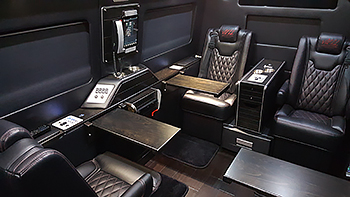 Custom-designed Sprinter for University of Alabama Coach Nick Saban McSweeney Designs is hitting the road this fall and can be seen at next week's BusCon in Indianapolis, Ind., September 28-30 and at the Chauffeur Driven Show this October 11-14 in Miami. All of its latest products will be on display.

Visit mcsweeneydesigns.com or email jch@mcsweeneydesigns.com for more information on its luxury vehicle portfolio or to locate an exclusive dealer.

[CD0915]