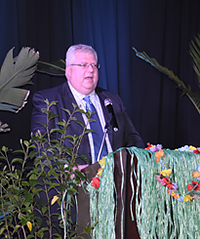 TLPA President Mike Fogarty of Tristar Worldwide was among the featured speakers at the GCLA Expo Costa Mesa, Calif. — It was another successful year for the Greater California Livery Association (GCLA) Expo & Trade Show, which was held September 24 at the Turnip Rose Promenade & Gardens. Nearly 250 members and supporters of the association came from all over the U.S. and Canada to attend the fifth-annual event, including Chauffeur Driven Publisher Chris Weiss. CD was also among the event's Platinum Sponsors.

This year's expo, the main sponsor of which was Ford Lincoln Limousine and Livery Vehicles, boasted a Ride the Wave theme and had expo-goers decked out in their most tubular tropical attire to celebrate the association's biggest fundraiser of the year.

"Some of us were on our way to a meeting when I had mentioned that the ups and downs of our fight against TNCs were like riding a wave, which is where the theme came from," says GCLA President Kevin Illingworth of Classique Worldwide Transportation.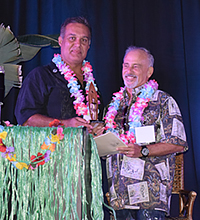 GCLA President Kevin Illingworth of Classique Worldwide Transportation (left) presents Ron Stein of Exclusive Sedan Service with the association's first-ever Lifetime Achievement Award The event kicked off with vendor exhibits featuring an array of vehicles, supplies, and services. Guest speakers also addressed the crowd, including TLPA President Mike Fogarty of Tristar Worldwide and Weiss, who provided an update about the state of the industry. Fire dancers and a cigar roller also added to the festive flavor of the expo, where Illingworth said that a good time was had by all.

"Overall, the expo was great," he says. "Everyone enjoyed it, the information was tremendous, and the affiliates got to spend time together and talk to one another."

Some special recognition was on the agenda, too, as Craig Hall of The Lincoln Motor Company was honored for his 10 years of loyal support, and Ron Stein of Exclusive Sedan Service received the GCLA's first-ever Lifetime Achievement Award.

"Ron works so hard for our industry, for the GCLA, for the NLA, and to raise money for the Harold Berkman Memorial Fund, and he's passed that torch onto his son Brandan," Illingworth says. "It was nice to recognize someone who is dedicated to making sure that the future's secure for their children and also for our industry."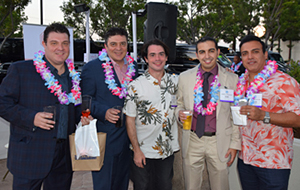 GCLA members and supporters from all over North America were in attendance at the evening Expo In other recent news, the GCLA hired Executive Director Tom Garrett of Garrett & Associates on September 1 to both manage the goings-on of the association and make sure that it is "available 24/7 to the membership base."

"It was getting difficult to manage the association while also managing our companies, so the board voted to bring in an executive director," says Illingworth. "Part of the deal is for him to build membership and come up with new ideas for us to show the members what we're doing for them. We're going to make sure that our minutes and everything else we do are transparent."

Next up for the GCLA are its northern California meeting, which will be held December 8 in Napa, and its annual meeting and holiday party on December 15 in Los Angeles.

Visit the association's newly redesigned site at gcla.org for more information.

[CD1015]