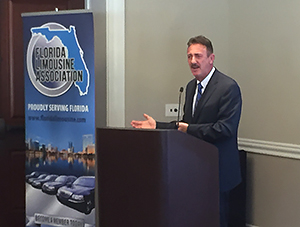 FLA President Rick Versace of A1A Limousine & Airport Service spoke during the chapter's first meeting /pan Bonita Springs, Fla. — When the newest chapter of the Florida Limousine Association (FLA) gathered at the Hyatt Regency Coconut Point on October 6, almost 40 companies were present for the debut meeting.

Spearheaded by President Randy Smith of Naples Transportation, Vice President Brandy Ollie of Go Platinum Transportation, and Secretary/Treasurer Rick Fugit of Gateway Coachworks, the Southwest addition to the Florida associations gives operators hailing from Collier and Lee counties a collective voice as the TNC battle gains traction on the state's Gulf coast.

"It seems like everything happens on the eastern coast first and then filters over here: Our commissioners are just starting to listen to the Uber issue and decide what to do," Smith said. "It's just getting ready to come to a head, so now when we need to petition and lobby our elected officials, we have a little more strength rather than just Randy Smith going on behalf of Naples Transportation. Now I can go on behalf of 50 other companies."

Smith adds that the chapter's first meeting was roughly an even split between discussing how members can work together not only to get the industry's message across to local leaders and government officials, but also for their own benefit with strength in numbers.



Nearly 40 companies were present for the debut meeting of the FLA's Southwest chapter "That's our first immediate need, to have that one large, collective voice so that we can fight the TNC issues," said Smith. "Because, believe it or not, we don't have a lot of ongoing issues. Insurance is getting tougher on a lot of companies so we are going to help our members with that area and with things like legal issues, but the TNCs are our biggest problem right now."

In a show of statewide unity, FLA President Rick Versace of A1A Airport & Limousine Service spoke at the chapter's first meeting. West Florida Livery Association President Dave Shaw of Network Limousines has also been helping behind the scenes, offering "starting information, pointers, and tidbits" as the Southwest chapter starts filling a regional void.

"We've never had any kind of transportation association—taxi, limo, whatever—in southwest Florida," he said. "No one ever knew of any other association, so it was just time that we all got together. We all know each other, we all kind of work with each other, and we recognized that we need to have a collective voice these days."

The chapter is currently in the beginning phases of creating its website and meeting schedule, and is finalizing its November meeting date.

Contact rsmith@nttep.com for more information.

[CD1015]