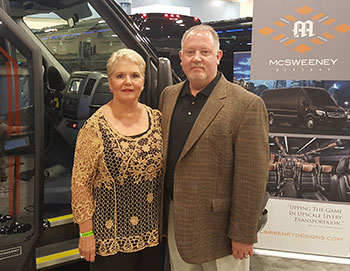 VIP Transportation Group owners Barbara and Simon White Birmingham, Ala. — McSweeney Designs, a fully approved MasterUpfitter for Mercedes-Benz Sprinter, recently announced the expansion of its preferred dealer network to include Nations Bus Sales. Under the terms of this agreement, Nations Bus Sales will now represent the entire McSweeney Designs line of upscale, Sprinter-based MD Exec Livery and luxury shuttle bus products through its dealership base headquartered in St. Augustine.

"We are excited about this relationship for a number of reasons, not the least of which is Nations Bus's strong reputation in the industry for cultivating long-term, repeat customer relationships with their clients," said Vern Kauffman, COO for McSweeney Designs. Kauffman further lauded Nations Bus's "full commitment to providing world-class sales and service for the product lines they represent," and has complete confidence in the dealer's ability to represent McSweeney Designs in marketplace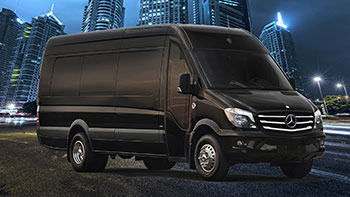 Exterior shot of MD Exec Livery PDF Portal Door Luxury Shuttle The new partners said that they were elated to immediately see the benefits of their alliance at October's Chauffeur Driven Show in Miami, Fla. While jointly manning the McSweeney Designs booth on the exhibit floor, the combined efforts of McSweeney Designs and Nations Bus resulted in the sale of two MD Exec Livery 14-passenger portal-door luxury shuttles to Simon and Barbara White, the owners of VIP Transportation Group of Orlando, Fla.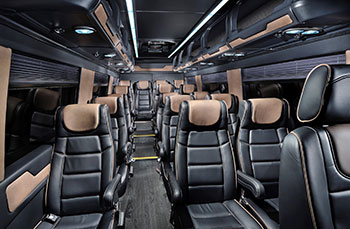 Interior shot of MD Exec Livery PDF Portal Door Luxury Shuttle The Whites commented about their new purchase: "We are extremely proud to have partnered with McSweeney Designs and purchased two of their all-new design 14-passenger Executive Mercedes Sprinters with more units to be added in our fleet for 2016. McSweeney's design and quality of craftsmanship is an exact fit for what our corporate and affiliate partners are now demanding from us."

Building upon this positive dealer and end-user momentum, McSweeney reports that Nations Bus Sales will be stocking its product to ensure quick delivery, as well as to leverage the strengths of its in-house design, engineering, and build teams to assist clients in the development of custom-tailored upfit solutions to uniquely suit their own upscale transportation needs.

Send an email to vkauffman@mcsweeneydesigns.com or chip@nationsbus.com for more information.

[CD1215]