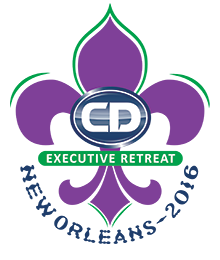 New Orleans — When our second Executive Retreat touches down in New Orleans May 1-3, it'll be chock-full of exciting opportunities for you to get to know The Big Easy! Registration is now open and, with room for only 200 operators, it's not too early to claim your space for a few days of world-class education, local flavor, and all that jazz. Many thanks to the Tenney Group and Turtle Top for once again being our Platinum Sponsors.

If you missed our inaugural retreat in Nashville, now's your chance to join us in New Orleans for the same high-caliber education, intimate networking, and days of getting to experience a wholly unique market.

The beating heart of New Orleans is its French Quarter, which is where our host property—JW Marriott—is located, right on the iconic Canal Street. You'll be within easy walking distance of the city's most recognizable sites, many of which are stops on our multi-day itinerary.


Our introduction to New Orleans will be a Hurricane Reception at Mardi Gras World, where hundreds of floor-to-ceiling parade floats are housed and dinner at the adjacent Grand Oaks Mansion will surround you with the antebellum architecture that gives The Crescent City so much of its one-of-a-kind charm. Enjoy local dishes and flowing cocktails while the Gumbo Trio adds a dash of Dixieland jazz to the killer atmosphere.

On Monday, start your day with a morning session about the relevancy of your sales message and if clients are perceiving your brand as you intended; after lunch, we'll be offering a complete marketing program that companies of all sizes can benefit from and immediately apply, covering everything from crafting annual budgets to identifying the places where your money is best spent for maximum ROI. Later in the day, we'll be taking a ride down the Mississippi River on an authentic steamboat where you'll find music, gaming tables, bayou scenery, and a buffet dinner featuring all the flavors of New Orleans. From there, we'll close out the evening like locals at The Maison, a live-music venue on Frenchman Street where you'll be treated to some swinging modern jazz.


We'll be going out with a bang on Tuesday: After exploring the profitability of your vehicles, clients, and services in the morning and an afternoon HR session on how to minimize the risks of terminating employees, get ready for carriage tours in the French Quarter, where you'll get an up-close look at New Orleans' modern sights and historic delights. Choose your own dinner locale from the endless offerings of local eateries but hurry back to the JW Marriott for our very own Second Line—a New Orleans-style, road-closing parade—from the hotel to Maison on Bourbon. The Jaywalkers will lead us on a winding, musically accompanied route to the Bourbon Street watering hole where we'll close out our retreat with an open bar and a night of live music and bead tossing.

And while our "official" schedule runs from May 1-3, come on down a little early or stay a day later. With the world-renowned Jazz Fest running from April 22 through May 1, you won't want to miss a chance to experience one of the most epic music festivals in the country that is sure to offer you a complete New Orleans experience. Our awesome room rate of $199/night runs from May 1-4, so you can check out the optional historical and natural tours we have planned as a coda to our retreat, too.

Visit neworleansretreat.com to make sure you're a part of our second annual Executive Retreat. For more information, or to be a part of our unofficial Jazz Fest excursion, contact Director of Events Jess Pavlow at 856.452.0323 or jess@chauffeurdriven.com.

[CD0116]