Detroit — Lincoln Motor Company heralds the return of its flagship—the all-new Lincoln Continental—an elegant, effortlessly powerful, serene full-size sedan that delivers quiet luxury to the industry's most discerning customers, according to Lincoln. Long rumored to be a complement to the Lincoln Livery lineup, the vehicle will be produced with an available Livery package for the industry. There are no plans at this time to produce the sedan as a QVM stretch. Chauffeur Driven will have more details about the Continental in the March issue.

The Continental concept was unveiled at last year's auto shows and immediately sparked conversation within and outside the industry thanks to its bold styling. Due to become available this fall in the U.S. and China, Lincoln says that the full-size sedan is designed to appeal to culturally progressive clients who define luxury on their own terms—craving superior quality, craftsmanship, and safety.

The new design takes the vintage nameplate into the 21st century, with Lincoln's new signature grille and an athletic profile that is dynamic and progressive.

Lincoln's new flagship welcomes drivers with a brand-exclusive lighting sequence. As the driver approaches the car with the key, LED signature lighting in the lower front fascia and taillamps subtly engages, while signature lighting in the headlamps awakens in a fluid motion. Lincoln mat lights then brighten the pavement around the front doors, helping show any hazards, while select interior lights warmly illuminate the cabin.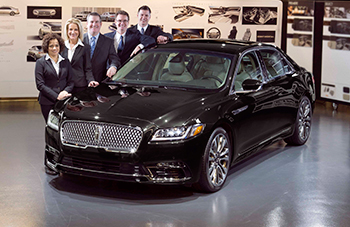 Ford-Lincoln Limousine & Livery team with the 2017 Continental Continental door handles are designed to offer elegant and effortless entry with new E-latch door release. The release is discreetly integrated within the beltline, leaving the body side clean. With the gentle touch of a button, the vehicle's doors pop open.

An elegant available panoramic sunroof covers nearly the entire roof area; the front half slides up and over the rear—creating a large open-air driving experience and an even greater feeling of spaciousness for up to five Continental occupants.

Lincoln Drive Control provides the driver a choice of three settings—comfort, normal and sport—adapting steering and suspension settings to tailor ride and handling. Available adaptive steering helps optimize steering response, enabling the vehicle to react more smoothly and precisely to driver input.

Rear passengers were also considered with such available features as audio and climate controls, sunshades, and reclining, heated, cooled and massaging seats. The streamlined interior provides generous rear leg room.

Innovations in managing vehicle noise and vibration, including Active Noise Control and acoustic laminated glass create a quiet, comfortable environment.

"The Continental name has long been associated with the ultimate in Lincoln beauty and luxury," said Kumar Galhotra, president of Lincoln. "With the all-new model, we are focusing on creating more human, personally tailored experiences for our clients—-providing what we call quiet luxury."

The all-new Lincoln Continental will be produced at Flat Rock Assembly Plant in Michigan.

Visit lincoln.com for more information.

[CD0216]