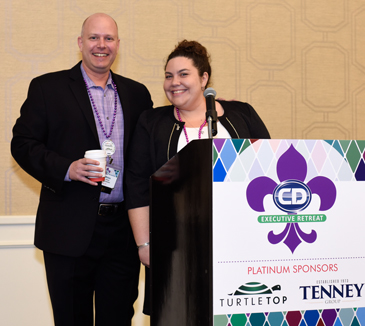 New Orleans — More than 200 industry professionals went marching into the Big Easy for Chauffeur Driven's second annual Executive Retreat. Held May 1-3 at the JW Marriot, the event was jam-packed with education, networking, and fun. Special thanks go out to our platinum sponsors Turtle Top and Tenney Group—not to mention our Gold, Silver, and Affiliate sponsors—for helping to make the Retreat a massive success. This Retreat marked the first for Chauffeur Driven's new Director of Events Jess Pavlow, and based on the reaction of the attendees, her trial-by-fire was nothing short of a triumph.

The event began with a welcoming reception at Mardi Gras World, the warehouse home to floats from past Mardi Gras parades. Guests were encouraged to tour the facility after being treated to a Hurricane, the signature cocktail of New Orleans. Next, dinner was served at the neighboring Grand Oaks Mansion, which transported attendees from the rainy New Orleans weather into an indoor antebellum mansion and courtyard. The Gumbo Trio's jazz provided the perfect soundtrack to the bayou atmosphere. The evening ended with a stroll along New Orleans' most well-known way, Bourbon Street.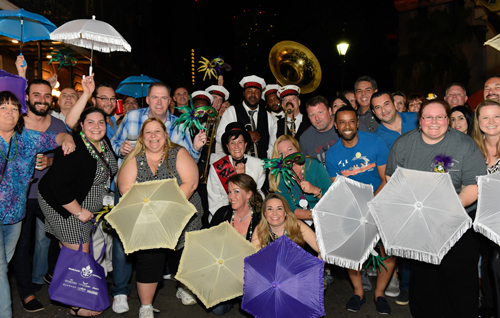 If the idea of education conjures up memories of clockwatching in math class, then you haven't been to a CD workshop. Monday kicked off with a fast-paced seminar by marketing expert Steve Yastrow of Yastrow and Company. His interactive workshop, entitled Brand Harmony: Communicate a Story That Drives Business Results, was gave the packed room insight on how to better communicate your company's mission to its target audience. Next, Matt Weber of ROAR! Internet Marketing gave a presentation called 10 Minutes to a More Profitable Website/5 Things Your Website Is Trying to Tell You, which provided an easy, jargon-free look at simple ways that operators can re-shape their digital presence for maximum effectiveness.

"Matt Weber's presentation was a great and knowledgeable session," said Niki Williams of Key Transporation Worldwide Services in Miami.  "It made us rethink our website tactics and development." Kim Garner of BEST Transportation in St. Louis was similarly enthusiastic about Monday's sessions, "This was an excellent day of learning. Every limo owner should attend next year."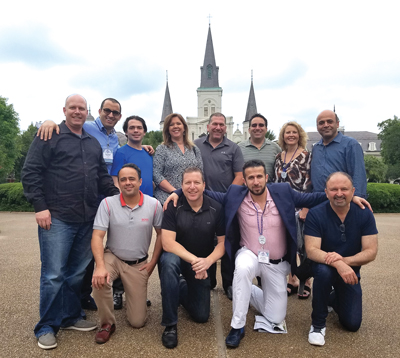 What better way to wind down after a day of work than a riverboat adventure on the Mississippi? On Monday night—after a reprieve from the heavy rains—Retreat attendees headed to NOLA's legendary Steamboat Natchez, the last boat of its kind, for a private cruise that offered a terrific buffet dinner, gaming tables, and live music from the famed Dukes of Dixieland. After a scenic trip around the city, the group next headed to Maison on Frenchmen for some more live jazz in the city's hottest music district.

Tuesday's first education offering was Priced for Profit: How to Calculate and Determine if a Vehicle, Run or Even Client is Making You Money, presented by Michael Campbell of Grace Limousine and Ron Sorci of Professional Consulting Resources. This well-received session provided attendees with methods to focus on specific services and clients to assess whether they're making, or costing, you money. Closing out the retreat's educational component was The Termination Process: How to Protect Your Ass-ets, a workshop presented by Kristen Carroll and Christina Davis of The LMC Group. Carroll and Davis offered ways that companies can prepare and protect themselves when dealing with the always-sticky situation of firing an employee. The discussion was informative and engaging, with plenty of interaction with the audience.

There was no way that CD was going to bid New Orleans adieu without a party. After a horse-drawn carriage tour that took participants throughout the historic French Quarter and surrounding areas, the retreat's attendees took the party to the streets—literally. After reconvening at the JW Marriott, event attendees were joined by The Jaywalkers Second Line Band for our very own parade through the neighborhood around Bourbon Street. Horns blared, drums beat, and retreat-goers were accompanied by a motorcycle police escort as revelers danced through the streets with masks and parasols bouncing in time. Where else can you get a police escort and close streets as you dance your way to a jazz club but in NOLA?

"I loved the riverboat cruise, but I think my highlight of the trip was, by far, the Second Line. That was amazing!" said Mary Beall of The Driver Provider in Phoenix, Ariz.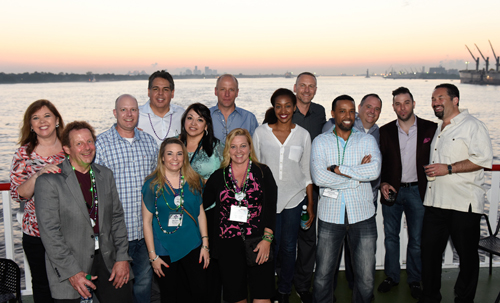 "The best time of all was our own Second Line to Bourbon Street followed by balcony bead-throwing—it was an AMAZING EXPERIENCE that I can't thank you enough for," raved Renee Ferraro of ZBest Worldwide Chauffeured Transportation in Baltimore, Md.

The parade ended at Maison Bourbon, where CD's Crazy in the Quarter party offered guests a private room with a balcony high above the endless party on the street below.

The Retreat also gave attendees a sneak peek at two buzzworthy vehicles: Platinum Sponsor Turtle Top offered a preview of their new Turtle Top VT3 shuttle bus, while Gold Sponsor Complete Fleet Livery Sales of Union, N.J., were on hand to showcase the much-anticipated 2017 Lincoln Continental.

"From beginning to end, you put on an absolutely amazing event in New Orleans," said Michael Callahan of Able Limousine in Hopkinton, Mass. "The seminars were great, very entertaining, and certainly kept my attention throughout. The entertainment factor was awesome and the camaraderie of the people in attendance was like nothing I have seen at any of the other events. Can't wait to see what you have up your sleeve going forward, but I am hooked."

Rest assured, plans are in motion for the next Chauffeur Driven events. Don't miss out on our annual Chauffeur Driven Trade Show, held October 9-12 in the nation's capital at Renaissance Washington, DC Downtown Hotel.

Visit chauffeurdrivenshow.com for more information.

[CD0516]