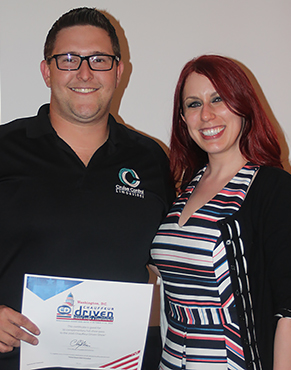 Stephen DiBenedetto of Cruise Control Limousine, who won a pass to the Chauffeur Driven Show in Washington, D.C., with CD Editor Madeleine Maccar Plainview, N.Y. — The Long Island Limousine Association (LILA) took to Bird Bus Sales' facility for a membership meeting that hosted nearly 50 people May 31. Chauffeur Driven Editor Madeleine Maccar was among those on hand for the evening meeting.

The meeting saw a passing of the presidential torch, with Robert Cunningham of Platinum Limousines ending his four-year tenure and former LILA Director Bill Goerl of Clique Limousines accepting the association's head leadership role—and while serving in his new position as Immediate Past President, Cunningham is adamant about remaining an active supporter and advisor for LILA.

"Even though I'm no longer president, I'm not going anywhere," Cunningham promised. With his positions on the Suffolk County Taxi & Limousine Commission board as well as the Long Island Wine Council, Cunningham vowed to continue fighting for the industry.

The 2016-2017 LILA Board is as follows:

President: Bill Goerl of Clique Limousines
1st Vice President: Paul Cannella of Concord Limousine/Krystal Bus Tours
2nd Vice President: Matt Silver of Ultimate Class Limousines
Treasurer: Michael Fargnoli of Precious Moment Limousine
Sergeant at Arm: Steve Showtime of Showtime Limousine
Immediate Past President: Robert Cunningham of Platinum Limousines
Secretary: Loren Denning of Class A Limousine
East End Advisory Board: George Monsour of Sunny Limousine
2-Year Director: Charles Gandolfo of Dynasty Limousine
1-Year Director: Doug Schwartz of Executive Limousine

In his first speech as the association's president, Goerl thanked both Cunningham and previous Immediate Past President Schwartz for all the work they've done to LILA's benefit, and promised to continue on the upward trajectory they've initiated.

Given the operational and insurance challenges Long Island has been facing over the past year, Goerl recognized the challenges ahead but plans to meet them head-on.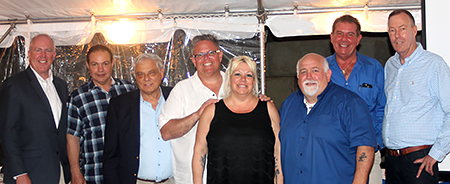 The 2016-2017 LILA board (L to R): President Bill Goerl of Clique Limousines, 2-Year Director Charles Gandolfo of Dynasty Limousine, 1st Vice President Paul Cannella of Concord Limousine/Krystal Bus Tours, 1-Year Director Doug Schwartz of Executive Limousine, Secretary Loren Denning of Class A Limousine, Treasurer Michael Fargnoli of Precious Moment Limousine, Immediate Past President Robert Cunningham, and Membership Director Bob MacDonald of Broward Limousine"We're looking to elevate the image of chauffeured transportation through continued education of our chauffeurs and re-establishing public awareness of how our chauffeurs are saving lives every day," he said. "We keep drunk drivers off the road. We take people out and bring them home safely—that's what we do. We're focused on getting through the entire year without any insurance claims."

Goerl added that "Long Island Limousine Association has long been a leader, and will continue to set the example on what an association is all about: Building relationships and keeping current within our industry."

The meeting also featured a presentation from sponsor Dashride's CEO Nadav Ullman, which highlighted the software platform's back-office system and app components, as well as its Dashboard Connect component, which is an affiliate offering that's scheduled to debut June 15. Bird Bus Sales President Rick Reichenbach later addressed the crowd, inviting all in attendance to take a tour of the facility at the end of the meeting.

LILA's next meeting will be July 26. It has a number of events planned throughout the rest of the year, including summer trips and parties, as well as an Associate Members Appreciation Day and a black-tie awards banquet to cap off the year.

Visit nslali.com for more information.

[CD0616]