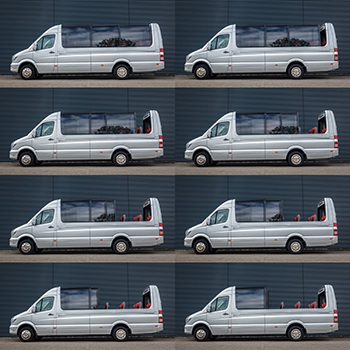 The progression of the convertible roof Henderson, Nev. — Caleche USA Inc. has successfully launched its convertible shuttle in the United States. Having first shown the product to the chauffeured ground transportation industry this past March, Caleche is currently delivering the first units to Napa, Chicago, New Orleans, and more cities around the country.

The convertible shuttle allows operators to provide luxury panoramic tours all year long, thanks to the in-house designed and patented Panoramic Roof system. Automatically inflating seals are integrated into the system, preventing any moisture from coming in regardless of weather conditions. Protections against UV rays and heat are fitted around the sides and roof, ensuring that passengers will remain comfortable even in the hottest climates.

Furthermore, the convertible shuttle offers something refreshingly new and game-changing to ground transportation companies. According to Windy City Limousine's Operations Manager Dave Lahr, "This is the coolest vehicle I have seen in my 25 years in the industry."

In fact, Windy City is one of the first companies in the country to purchase a convertible shuttle, a vehicle acquisition that President George Jacobs has been anticipating for quite some time—and couldn't be happier about.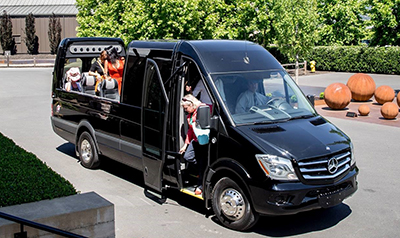 Napa Valley Wine Tours in California was also one of the first companies to purchase a convertible shuttle "I am so happy with it—it is just the coolest vehicle," Jacobs said. "We've had a lot of unusual, attention-getting cars over the years, but nothing like this. People just react to it: They honk, they point, they do almost comedic double-takes when they see it drive by."

Windy City hasn't even had the 16-passenger vehicle for a month, but it is already a popular request for brides-to-be, city tours, and group events; meanwhile, Jacobs says that the lucky few who have already ridden in it are instantly fans.

Though as head-turning as the vehicle is, safety remains a top priority.

"The manufacturer has already installed a rail for it, and there will be no standing when the bus is in motion," Jacobs says. "And we'll have to close the convertible top when we go faster than 40 miles an hour."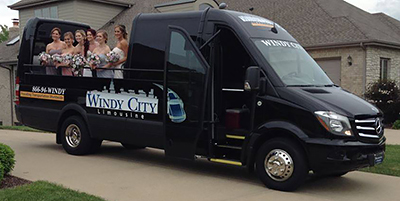 Windy City Limousine's convertible shuttle is already seeing a high demand as a special-event vehicle Caleche USA President Robin Verachtert explains that, until now, the industry has not been able to offer a vehicle that delivers both a luxury ride and a panoramic viewing experience.

"A double-decker bus you share with 60 others in the blazing heat or cold rain is not something every passenger would pay for, while a conventional shuttle will provide comfort but not the opportunity to look outside properly," he says.

Caleche USA offers both 16- and 10-seat models of the convertible shuttle, with standard three-point safety belts in all models.

Visit caleche-usa.com or windycitylimos.com for more information.

[CD0616]