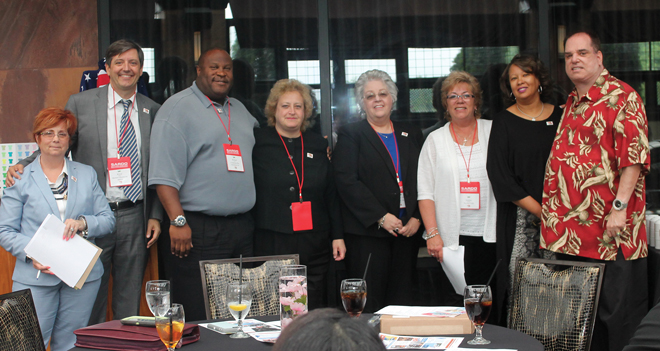 MLA's board of directors (L to R): Executive Administrator Mary Presley, board member Bryan Johnson of Martens Johnson Insurance Agency, Vice President Michael Greene of A Platinum Plus Limo, Secretary/Membership Chair Kim Klein of Lasting Impressions Limousine & DJ Services, Treasurer Linda Lee Jones of The Franklin Chauffeur, President Joanna Fridinger of The Limo Lady, and board members Kim Little of First Choice Transportation and Gary Day of American Limousines Hanover, Md. — When Maryland Limousine Association (MLA) hosted nearly 50 members and supporters on June 21 at Maryland Live! Casino's Prime Rib, it was the first time in more than a year that the association held a meeting. CD Editor Madeleine Maccar was among those who attended the meeting.

MLA had gone quiet for most of 2015, largely owing to TNCs forcing local operators to refocus on keeping their businesses afloat and leaving the association no choice but to fall by the wayside. But longtime President Joanna Fridinger of The Limo Lady was determined to breathe new life into it, starting with the help of its newly named Executive Administrator Mary Presley "to help keep the MLA alive," as Presley holds the same position with several motorcoach associations and the similarly revived Washington Metropolitan Limousine Association (WMLA). Fridinger introduced MLA's new EA after expressing her gratitude to everyone for the packed-room turnout.

"Thank you for your support as we try to get rejuvenated," Fridinger said to those in attendance. "We will continue to hold meetings; we need to be a team of vendors and operators. We're all here for the same reason: to make the industry stronger not as individual companies, not as competitors, but as one association."

The meeting also saw the introduction of MLA's board, which convened immediately before the membership meeting and comprises:

President: Joanna Fridinger of The Limo Lady
Vice President: Michael Greene of A Platinum Plus Limo
Secretary and Membership Chair: Kim Klein of Lasting Impressions Limousine & DJ Services
Treasurer: Linda Lee Jones of The Franklin Chauffeur
Board members: Gary Day of American Limousine, Bryan Johnson of Martens Johnson Insurance Agency, and Kim Little of First Choice Transportation
Executive Administrator: Mary Presley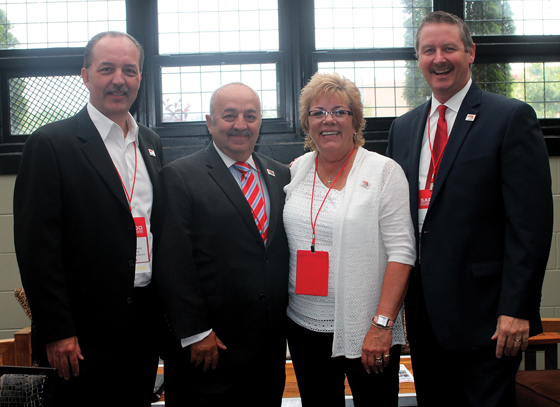 MLA President Joanna Fridinger of The Limo Lady with (L to R) Mert Onal, Korky Onal, and George Rains of ZBest Worldwide Chauffeured Transportation As MLA's coffers need to be refilled, fundraising ventures are on the horizon. Ideas ranging from a golf outing to a "roadeo"—an idea inspired by Presely's motorocoach experience, where obstacle courses would be set up in an empty parking lot for larger vehicles to compete in—were suggested as ways to get the association involved in a light-hearted event to raise money for the association.

After association-specific updates were dispensed with, the afternoon's slate of speakers were up, starting with Quang Ngo and Trang Li of NT Souvenir Wholesale, one of the highest-rated gift shops in Washington, D.C. Its two representatives spoke of the one-stop shop's wholesale discounts and how they can benefit operators looking for company merchandise.

Next was Loretta Bitner, Chief of the Commercial Passenger Carrier Safety Division Office of Enforcement and Compliance at the Federal Motor Carrier Safety Administration (FMCSA). As buses and motorcoaches become more of an industry standard than exceptions, it's more important than ever that operators understand the varying regulations governing high-occupancy vehicles, and Bitner clarified a number of misconceptions and murky areas surrounding them—and urged those in attendance to be vigilant in their adherence to and understanding of the legal parameters.

"With each step of growth you take, the requirements change," she reminded everyone. "There are differences in operating sedans, limousines, and vans, and you have to look at safety and regulations—locally, statewide, and nationally—as business decisions. Don't ever do anything on a lark: It's not just about the price of newer, bigger equipment but also things like insurance, CDLs, and drug testing."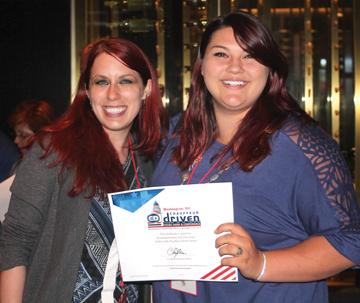 CD Editor Madeleine Maccar (left) with CD Show pass winner Ashley Polk of Fleet Transportation Two representatives from the Public Service Commission (PSC), the Transportation Division's Assistant Director of Safety and Enforcement Hilary Hammerman and Director of Transportation Christopher Koermer, capped off the day's roster of guest speakers. While they both gently reminded those in attendance that they're bound to the state's laws—and are often incapable of changing rules that others have put in place—many MLA members see the PSC as bearing considerable responsibility in allowing TNCs to operate and had numerous questions about the commission's plan to "drive out Uber and other TNCs like they did in Austin." Both Hammerman and Koermer said that petitioning for fingerprint background checks and temporary operating licenses—which, for many TNCs will expire this December—are immediate solutions to a complex problem.

Given the recent return of the WMLA and the strengthening of the Virginia Limousine Association, a months-long conversation about unifying the three neighboring organizations continued at the end of the MLA meeting. After the MLA board and members alike brainstormed a number of possible ways to straddle the geographically similar but vast operational difference between the two states and district, it was decided to appoint representatives for each association to form a three-person committee—comprising Jones, George Rains of ZBest Worldwide Chauffeured Transportation Services, and Jeff Shanker of RMA Worldwide Chauffeured Transportation—to facilitate communication and exchanges of information among them.

At the end of the meeting, Maccar raffled off a pass to October's 2016 Chauffeur Driven Show, which was won by Ashley Polk of Fleet Transportation.
Visit the newly redesigned MLA website at
mdlimoassoc.org
for more information
[CD0716]