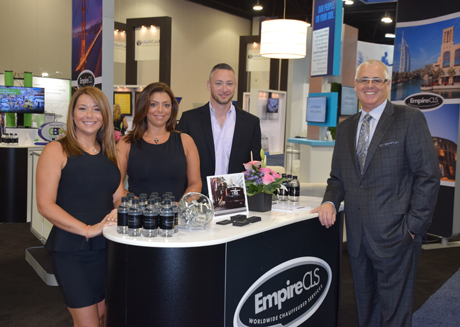 CEO David Seelinger (right) with other members of the EmpireCLS Worldwide Chauffeured Transportation team (L to R): Marissa Criaris, Dina Perazzo, and Michael Burnett Denver — The Global Business Travel Association (GBTA) held its record-breaking 48th annual Convention from July 16-20. Risk, duty of care, and technology's impact on business travel were the dominant themes throughout the five-day gathering that brought together 6,587 travel professionals and industry leaders—including CD Publisher Chris Weiss. The event included a sold-out Expo floor featuring more than 400 vendors showcasing business travel's latest products and services.

Featured speakers included United CEO Oscar Munoz, who offered a candid assessment of his airline and air travel in general: "The airline industry has made travel hell for business travelers. We need to do better to improve the air travel experience. My goal is to show you can run a business with heart that also makes money for its investors," he told the audience. TSA Administrator Peter Neffenger also took the stage for a one-on-one interview with GBTA Executive Director and COO Michael W. McCormick.

With mergers and acquisitions of some of the best-known brands in the air travel, lodging, and ground transportation sectors continuing at a rapid pace, GBTA Convention 2016 featured a Center Stage panel discussion on the topic of consolidation with some of the most well-known experts in the field. Moderated by Guy Langford of Deloitte & Touche, the panel comprised: Cvent CEO and Founder Reggie Aggarwal; Expedia President and CEO Dara Khosrowshahi; and Accor Hotels COO Kevin Frid. The panelists agreed that with a healthy and robust reliance on technology, as well as the continued environment of low borrowing and easy access to capital, consolidation will continue to be a major driver shaping the business travel landscape for years to come.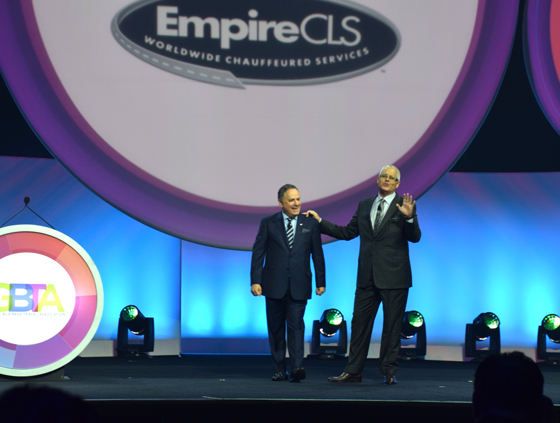 Scott Solombrino of Dav El/BostonCoach (left) and David Seelinger of EmpireCLS Worldwide Chauffeured Transportation CNN anchor Richard Quest moderated a lively discussion on the future of ground transportation between Lyft Chief Business Officer David Baga and Dav El/BostonCoach CEO Scott Solombrino. Duty of care, fair wages for drivers, and safety based on background checks seem to be where the traditional ground transportation companies make their strongest arguments. Ride-sharing services, on the other hand, point to their high demand and successful business model to advance the argument that travelers have made their decision.

Solombrino was also joined by David Seelinger of EmpireCLS Worldwide Chauffeured Services to discuss how their companies have spearheaded an effort to join together several hundred affiliates across the country for an extensive "ASAP Fleet" of luxury cars. New York City will be the first location to launch later this summer, followed by a systematic roll-out of destinations across the U.S. More information will be available at a later date.

The new app will provide corporate clients and consumers with not only the convenience of tap-and-ride transportation but also an unmatched level of service and safety measures (including background checks, drug testing, insurance, defensive driver training, etc.), which can only be available from companies who have spent years training and managing professional chauffeurs.

"This is an exciting time in the chauffeured car industry," Solombrino said. "It is extremely important to both companies that our clients continue to receive the highest level of customer care they have always enjoyed, while at the same time have access to the immediacy of on-demand technology which smartphones and portable devices can now provide."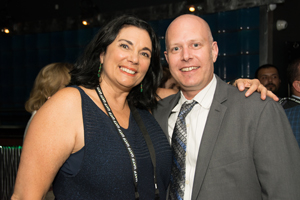 Lenore D'Anzieri of Limo Alliance and CD Publisher Chris Weiss "Our new on-demand service will streamline the process for clients to book rides with us and our affiliates," added Seelinger. "The app is our safe solution for clients who need last-minute transportation and have high expectations for the quality of their ride."

Actress Julia Louis-Dreyfus and NFL quarterback Peyton Manning also inspired the audience, as did Featured Speaker and NASA astronaut Navy Captain Scott Kelly, who has spent more time in space than any other American—including his record-breaking year at the International Space Station. Captain Kelly spoke of the many similarities between space and business travel: "If you don't try to make things better—even a little bit—they are going to get worse... Sometimes you have to prepare for a very unlikely scenario that could have a huge impact."

Next year's Convention will be in Boston, Mass., July 15-19, 2017.

Visit www.gbta.org for more information.

[CD0716]