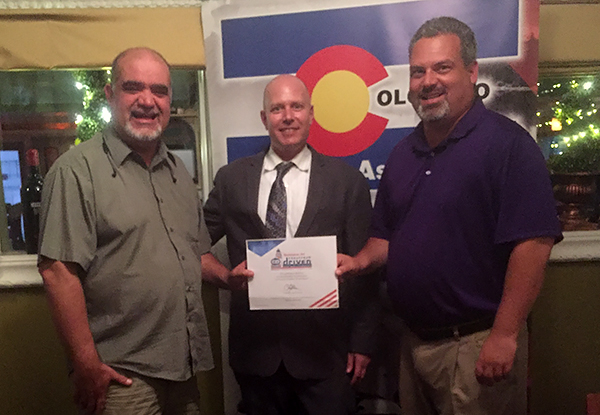 CD Publisher Chris Weiss (center) with Show pass winners Avi Ancel of Uptown Limo and Steve Felt of Colorado Black Car Aurora, Colo. — More than 20 members and supporters of the Colorado Limousine Association (CLA) were present for the association's July 19 meeting, including CD Publisher Chris Weiss, who was the meeting's guest speaker.

CLA President Dianne Cavender of DDG Classic Limousine kicked off the meeting with introductions, housekeeping, and expressing her satisfaction with the evening event's turnout. Treasurer Nikko Ouzounis of White Dove Limousine then presented his financial report, and Doug Pooley of Colorado Limousine and Jody Cowen of Carey Denver provided an update on their efforts to thwart Denver's unconstitutional herdic law, which encompasses municipal ordinances mandating that all for-hire vehicles operating within the city have a herdic license.

Weiss then spoke to those in attendance about both the benefits of attending CD's 2016 Show in Washington, D.C. and how Colorado market at large compares and contrasts to the industry on a national level. He emphasized that while TNCs have invaded the region's ground transportation, the luxury sector will remain competitive with corporate travel and airport transfers.

He also discussed the growing trend of group work, and how both retail and bus-type trips will continue to be assets to the industry with their high barriers to entry for TNCs. With the Global Business Travel Association's (GBTA's) 2016 Convention going on in nearby Denver, the event's announcements, like EmpireCLS Worldwide Chauffeured Services and Dav El/BostonCoach coming together to create an industry-wide on-demand app, were also explored.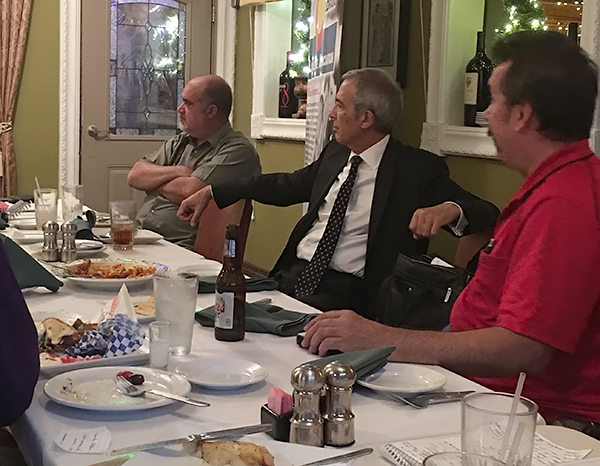 Members of the CLA at the June 19 meeting After also touching upon the growing trend of operators putting buses and motorcoaches in their fleets and how technology continues to be an instrument of evolution in chauffeured transportation, Weiss raffled off two passes to CD's Show, which were won by Avi Ancel of Uptown Limo and Steve Felt of Colorado Black Car.

Among CLA's many committees reporting on their efforts, the Legislative/PUC/Airport Report indicated that measures have been taken to get rid of all non-safety-related rules, with a particular focus on eliminating the 10-year rule for vehicle turnover. The Education Committee has reached out both legal and transportation speakers to present at future meetings, while the Public Relations Committee called for newsletter submissions, social media materials, and volunteers to keep the PR momentum going.

Cavender then reminded members that they can submit questions for the board to address at future meetings' roundtable discussions, which aim to clarify any concerns that any members have about everything from insurance to the industry in general to the association in particular. She also put out the call for more member involvement with the CLA's Legislative, Membership, Sponsorship, and Education committees to help maximize the benefits of being an association member.

The next CLA general meeting will be September 20.

Visit cololimo.org for more information.

[CD0716]