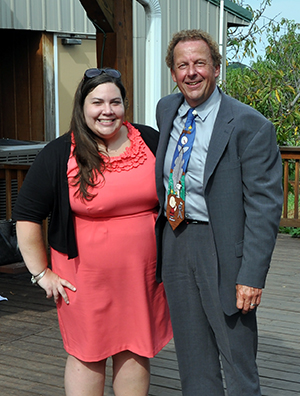 CD's Director of Events Jess Pavlow and Industry & Brand Ambassador Philip Jagiela Crozet, Va. — In vino veritas. More than 20 members and guests of the Virginia Limousine Association (VLA) got to put this old adage to the test at a recent general meeting held August 1 at the Prince Michel Winery. Among the turnout were Chauffeur Driven's Director of Events Jess Pavlow and Industry & Brand Ambassador Philip Jagiela, who also serves as the VLA's executive director.

Following a short networking session, VLA President Paul Walsh of Superior Executive Transportation called the meeting to order by welcoming attendees and introducing the event's vendor guest speakers, which included Joe Lalla of Georgetown Insurance and CD's Pavlow. Walsh then took a moment to recognize former VLA Treasurer Pam Tripp by presenting her (in absentia) with a special recognition plague for her years of service on behalf of the association.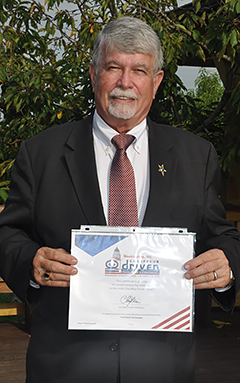 Winner of the 2016 CD Show Pass Richard Minter of Commonwealth Chauffeur & Concierge After a few words on the benefits of being involved in an association from meeting sponsor Andrea Saathoff of Albermarle Limousine in Charlottesville, Va., guest speaker Barbara Arkwright, director of enforcement for VA Department of Motor Vehicles, was invited to speak. Arkwright shared DMV statistics relating to the chauffeured ground transportation industry. She noted that the department investigated more than 1,000 passenger carrier incidents, made 248 arrests, and issued over 1,900 Compliance Advisory Notices, which included warning letters and letters notifying carriers they were in compliance at the time they encountered one of our Agents. Furthermore, nine assessments were issued by DMV Motor Carrier Services, totaling $7,000.

Arkwright's presentation was followed by representatives of the Prince Michel Winery, including Owner/CEO Kristen Holzman, Sales Manager Caitlin Powers, and GM/Wine Maker Brad Hansen. They gave a rundown of their operation and offered details of their accommodations for winery tours. The winery hopes to add the VLA as a "partner" on their new website.

VLA Secretary Glenn Stafford of Love Limousine next provided the group with a legislative report that detailed full NLA activity, including a summary of the NLA Day on the Hill, which happened earlier this spring. He then shared news that a major corporation is requiring their employees to use TNCs as a cost-cutting measure. This news further elucidated the struggles faced by the association. Walsh then followed up with additional news, including the recent Virginia state requirement for TNCs to display "trade dress" on their vehicles. He also encouraged all members to get involved with the fight for legislative equity.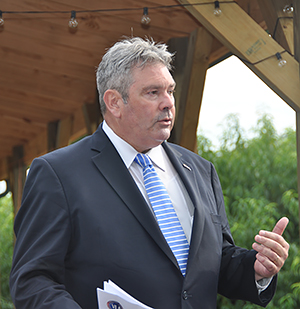 VLA President Paul Walsh of Superior Executive Transportation Next, the VLA held their board meeting onsite. Ben Mercer, the chairman of the association's election committee, thanked Jagiela and VLA Treasurer Randy Allen of James Limousine for their assistance with the voting process. Mercer then referenced the establishment of a by-law committee that will address irregularities discovered during the election process. After ballots were distributed and collected, it was announced that Walsh, Stafford, and Allen will keep their positions on the board.

Before the meeting was adjourned and the group headed out to the wine tasting room, the association held two raffles. First, Betty Callahan of Bay Breeze Limousine won the evening's 50/50, then Richard Minter of Commonwealth Chauffeur & Concierge was named the winner of a show pass to the Chauffeur Driven Show in Washington, D.C., where the VLA will hold their next meeting October 12.

Visit vla-limo.org for more information.

[CD0816]