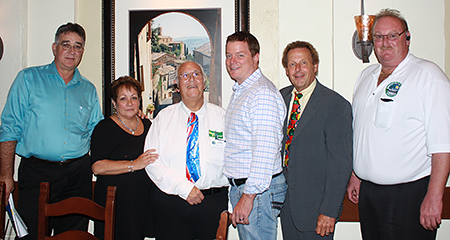 GOLA Director Ed Alonso of Corporate Worldwide Transportation, Secretary Marlene Levin of Sweetwater Limousine, VP/Treasurer Al Castagna of Quick Transportation, Trade Member Director Lew Robbins of Advantage Funding, CD's Industry & Brand Ambassador Philip Jagiela, and President Cliff Wright of Royal Coach and Limousine Orlando — The Greater Orlando Limousine Association (GOLA) welcomed 25 attendees—including CD's Industry & Brand Ambassador Philip Jagiela—to its August 9 meeting at the Florida Mall's Olive Garden, which was livestreamed on Facebook with some help from Jeremy Levin of Sweetwater Limousine and featured vehicles on display in the venue's parking lot.

Early in the meeting, President Cliff Wright of Royal Coach and Limousine announced that the association is planning to help Chauffeur Driven promote its 2017 Show in Orlando, expressing excitement that the annual trade show will be returning to Florida before introducing both Jagiela and Vision of Flight President and CEO Mike McKenzie as the evening's special guests.

As social media ups its claim on the marketing realm, associations' overall digital presences are undergoing massive overhauls—including GOLA's. Its website has been redesigned and relaunched recently to increase its consumer appeal and will be receiving the same attention the association's Facebook page will, too.

Members discussed the Pulse nightclub tragedy and their involvement in the aftermath. In the wake of the June shooting, many GOLA members were quick to provide transportation services for the impacted families at no charge, expressing their desire to help in the way most immediately available to them.


CD's Industry & Brand Ambassador Philip Jagiela (left) and CD Show Pass winner Tommy Wright of Royal Coach and Limousine McKenzie, who's also a past GOLA president, offered his assistance in helping to fine-tune the association's vision of the future. He also provided an overview of his new company, which aims to introduce students to aviation/aerospace opportunities and careers through an interactive program.

Lew Robbins of Advantage Funding, GOLA's vendor member of the month, spoke about what kind of services his company offers to the industry and discussed the importance of thinking about and planning for foreseeable future purchases in advance. He also stressed the importance of turning to financing companies earlier in the buying process, as they can help get all of the necessary paperwork in order well ahead of time.

The monthly vendor highlights are an opportunity to demonstrate their importance to the association membership and the role they play in the industry. Cassie Tom from Nations Bus Sales will be next month's feature vendor partner.

Jagiela then addressed the crowd, echoing the importance of operators and vendors unifying in order to strengthen the national industry, which he also commented on in regard to his opportunities to visit with operators and associations throughout the country. He encouraged members to continue participating on the playing field rather than sitting idly by on the sidelines before detailing upcoming Chauffeur Driven events and the benefits they offer. He then raffled off a pass to the 2016 CD Show in Washington, D.C., which was won by Tommy Wright of Royal Coach and Limousine.

The next GOLA meeting will be held September 13.

Visit the newly redesigned getaroundorlando.com for more information.

[CD0816]