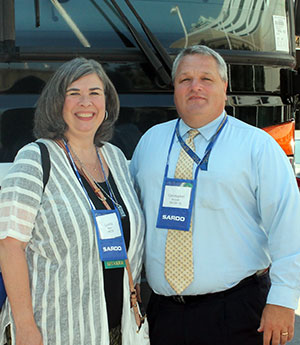 Loretta Bitner and Chris Rotondo of FMSCA Atlantic City, N.J. — The National Association of Motorcoach Operators (NAMO) held its 16th Annual Conference from August 17-21 in the same New Jersey resort town where it began in 2000, which Executive Administrator Mary Presley said was an apt homecoming for a successful show.

"This was our best show ever," she said, adding that the event saw a turnout of more than 130. "This conference was born from a UMA (United Motorcoach Association) event in Atlantic City. Being back here for our Sweet 16 and what was probably our best-attended show really was huge for us."

The multi-day event primarily stuck to the Trump Taj Mahal and Resorts Casino—plus a few off-site events that took attendees around the seaside city—and featured an array of seminars, vendor highlights, networking receptions, and demonstrations.

Chauffer Driven's Editor Madeleine Maccar was on hand for the conference's packed Friday schedule, which offered a great deal of crossover information beneficial to the chauffeured ground transportation industry, especially as it gravitates more toward high-occupancy vehicles. Members of the state police and Federal Motor Carrier Safety Administration (FMCSA) Division Administrator Christopher Rotondo led an in-depth Level I FMCSA Inspection Demonstration, walking all in attendance through the roadside inspection of a bus and what the process entails, highlighting key areas of passenger safety throughout.


One of the conference's educational sessions was a live demonstration of an FMCSA Level I inspection A familiar face to chauffeured ground transportation operators also spoke at the conference: Bob Crescenzo of Lancer Insurance Company—a frequent speaker at CD's shows—discussed "Motorcoach Fires: Why They Happen and How to Avoid Them." The hourlong session drew on audience participation while citing real-life examples of on-the-job bus fires to stress the importance of safety, preparedness, and making sure that everyone from the driver to the passengers have a clear understanding of how to respond to emergency scenarios.

One of the most well-received moments from the conference was an address from FMCSA Administrator Scott Darling, which he delivered to a rapt audience on Saturday.

"It was his first official speaking engagement as administrator of FMCSA," Presley said. "I think that was one of the highlights, that he took time out of his busy schedule to come and talk to the group. They were just in awe of him."

All in all, Presley declared NAMO's 2016 event as yet another hit for the organization.

"Feedback has just been fantastic," she said. "I've gotten some really great reactions and no negative comments. I tried a new tactic and gave everyone more free time because they really appreciate being able to sit around and commiserate, to meet with their peers, and they responded very well to that."

Visit namocoaches.org for more information about NAMO.

[CD0916]