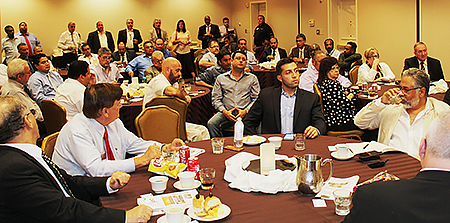 HALCA's September 20 meeting saw a packed room Houston — The Houston Area Livery & Charter Association (HALCA) met for its third meeting of 2016 on September 20, which hosted a standing-room-only crowd at the city's Crowne Plaza Brookhollow.

HALCA President Wes Hart of American Corporate Transportation kicked off the meeting, which covered topics ranging from industry-specific updates to regional goings-on.

With Super Bowl LI taking place at Houston's NRG Stadium in February 2017, it's never too early to begin planning event transportation and parking details, both of which were on the evening's docket.

"The urgent thing to know is that if you're planning to come to Houston for the Super Bowl, you'll have to have a license for your chauffeur and a fingerprint background check, and you will have to have your vehicle permitted," Hart said. "The licensing and permit process will take a month, and they will tow your vehicle if you're not properly licensed."

A new city-wide app, Arro, is set to launch in Houston, and was also a topic of conversation. Arro hails itself as offering "Your Taxi, Your Way" and aims to connect passengers with licensed taxicab operators in the city, as it has for riders in New York City, Chicago, and Boston.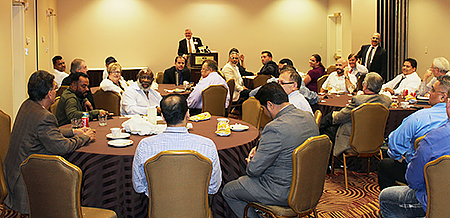 HALCA President Wes Hart of American Corporate Transportation addresses the meeting's attendees Two presentations were also part of the meeting: Tarek Mallah and Gregg Haroutunian of Karhoo were both on hand to discuss how the ride comparison app has been serving a European market and is beginning to extend its reach into the U.S.; and HALCA Director Jon "Younes" Ouazdi of TransGates Limousine spoke about the already-implemented and upcoming changes to the association's website.

With the City Mandated VFH Data Submission reports due soon, the conversation inevitably gravitated to the new requirements mandated by the revised Chapter 46 ordinance—which are presenting a challenge to Houston-area operators.

"The mandate threw a wrench in everything: You'll lose your permit to operate if you don't complete the forms," Hart explained. "A lot of companies got a waiver for the past two years, but now they're not issuing waivers after January 1. So after the end of the first quarter of 2017, you have 20 days to submit it or you lose your license. They want to know what zip codes you do pickups in, what your revenue was—a lot of competitive information. This is one of the things we want to take to City Council, and we've started increasing awareness of it because when April 20 comes, we don't want so see everyone's permits being taken away."

HALCA's elections will take place November 10, which is the final membership meeting of the year. The association's holiday party is currently slated for December 11.

Visit houstonlimos.info for more information.

[CD1016]