Kent, United Kingdom — Mobility Networks, a world-leader in accessible wheelchair lifts and ramps for buses, coaches, and other adapted vehicles, has opened new offices in New York and Toronto to introduce its latest solutions to the North American market.

Mobility Networks North America (MNNA) is the latest worldwide branch to be set up by Mobility Networks. The Mobility Networks Group delivers a one-stop-shop service for bus and coach builders, vehicle convertors, fleet operators, and domestic drivers looking for the wheelchair access solutions from around the world. CEO Mike Simmonds will be leveraging his global experience to deliver the product to the North America market.

MNNA officially launched and unveiled a range of pioneering access products to the U.S. market at BusCon Expo in September.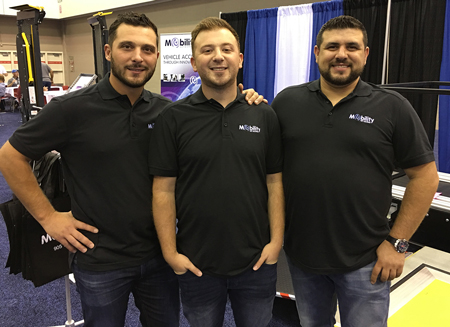 L to R: D'Urso brothers and MNNA managing partners Angelo, Angelo M., and Domenic D'Urso. For the first time, U.S. bus and coach builders will have access to Mobility Networks solutions. The New York office, along with the Toronto facilities, will be led by brothers Angelo, Angelo M., and Domenic D'Urso. Through their 85,000 square foot facility near the Toronto Pearson International Airport, MNNA will be able to import and supply vehicle access solutions from around the world. A dealer network is being rolled out across North America through established contacts so assured service and after-sales support is delivered.

"Launching the Mobility Networks operation in North American is a true privilege for us," commented Angelo D'Urso, MNNA co-director. "During the two decades I have worked in the bus and coach sector, I have never experienced wheelchair lifts with such outstanding engineering quality as encompassed in Mobility Networks' products. Following our initial success at BusCon, I believe Mobility Networks' products could potentially be the industry standard within the next five years." 

Simmonds added: "These are indeed exciting times for Mobility Networks as we introduce a new, wide-ranging choice in wheelchair access solutions to the North America market. These products will help elevate wheelchair passenger experience beyond previous convention. As we are a global network built through decades of experience, our trade clients can trust Mobility Networks to only supply the best solutions from a worldwide market. This will be combined with localized U.S. expertise and support so all vehicle access challenges for fleet operators and disabled passengers can be resolved."

Visit mobilitynetworksgroup.com for more information.

[CD1016]