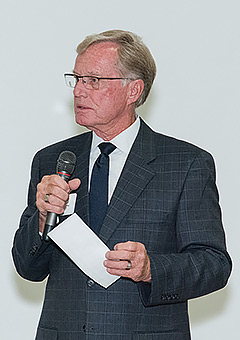 GCLA's Lobbyist Gregg Cook On October 19, Greater California Livery Association (GCLA) Treasurer David Kinney of API Global Transportation opened up his West Sacramento office to host more than 60 northern California owners, operators, and vendors for a mini GCLA summit.

Early birds were treated to a Microbrew Sampler Station and hors d'oeuvres. "Brew Talk" TV host Nick Macaluso offered insights on each of the award-winning Sacramento Valley beers being poured.

New vehicle displays by sponsors Team Superstores of Vallejo, Nor Cal Vans, Napa Ford, and Coach West allowed attendees a chance to explore a new Ford Transit van conversion and a California-compliant MKT stretch, as well as test drive new Cadillac sedans as well as a Lincoln Continental—and many in attendance had signed up for their own livery-equipped version of Lincoln's flagship vehicle.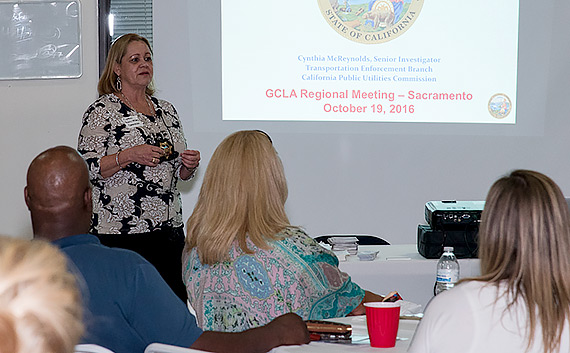 Investigator Cynthia McReynolds of the California Public Utilities Commission (PUC) Janeiri Galvan from Bauer's Pre-Owned Sales and Tony Fuller from Interstate Oil Cardlock were on hand to help operators save money on equipment and fuel.

Then, the evening's featured speakers provided updates and insights on operating in compliance with both state and federal requirements in the simplest and most cost-effective manners.

Investigator Cynthia McReynolds of the California Public Utilities Commission (PUC) reviewed current audit trends and enforcement actions. Her tips for assisting the PUC in taking action against illegal operators were well received; so too as were her steps for leveling the playing field, as McReynolds also fielded several operators' complaints about the shameless practices of TNCs.

Barret Business Services gave attendees nuts-and-bolts information on workers' compensation, taxes, and payroll prep savings that everyone with employees could relate to.


Members of the GCLA GCLA Lobbyist Gregg Cook of Government Affairs Consulting briefly summarized the many actions taken during this legislative session. Applause greeted the news of a one-year extension for 120" stretch owners to comply with the required fifth door and escape-window retrofits previously mandated by state laws.

The association will be holding its Northern California Holiday Party on December 6 at Napa Valley Ford and Lincoln, while the GCLA annual meeting will be at the LAX Marriott on December 13.

Visit gcla.org for more information.

[CD1116]