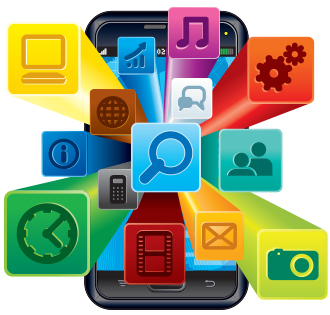 Apps are one of the fastest-growing markets for technology. With so many mobile devices—from smartphones to tablets—available to consumers, having an app for ease of use is practically required (for some devices, they are required). According to statista.com, both the Apple App Store and Google Play each have 1.4 million apps currently available for download, and approximately 60,000 new apps are launched every month. In this column, we feature some of the latest and most useful apps that will help you with your business, streamline a process, or generally make your life a little easier.



AroundMe
Available: iOS, A, W
Honorable mention: Poynt

Visiting a new city and want to find the closest ATM, or do you have a client who needs to make a last-minute stop at the pharmacy and you're unfamiliar with the neighborhood? This app works with your GPS to pinpoint your location and show establishments from a variety of pre-selected categories including banks and ATMs, bars, hospitals, hotels, parking lots, pharmacies, movie theaters (with times and reviews in most cases), and coffee shops. It shows how many miles they are from your current location, as well as the phone number, website (if available), and Yelp and Foursquare reviews. It also includes gas stations and the current price of regular unleaded, and how recently it was updated. Using your preferred map app, you can click for one-touch, step-by-step directions. The app also shows the current price of area hotels for that night, some select amenities (like free Wi-Fi), pictures, and a brief description of the property's highlights. Book through the app, which seamlessly integrates with booking.com.

Highlight: AroundMe's interface is extremely simple and straightforward; Poynt uses icons and layers, so there is a bit more clicking to find what you want. We also found that Poynt had more paid and featured content.



DocuSign
Available: iOS, A, W

Ah, what did we do before the Internet? We used fax machines, courier services, snail mail, and our own two feet to get contracts to our clients. DocuSign is a service that allows a user to send a contract or other important documents (not court or legal forms, of course) via encrypted email to capture a signature, which can be done with a finger, stylus, or by uploading a signature file. The document can be set to expire if not signed within a certain window, and private notes can be added for each recipient. The "envelope" containing the signed document is available on your app, and reminders are sent to those who have yet to sign. Conversely, it could also be used for communication between you and the office when you're traveling—a nice change from an authorized and trusted manager scribbling your name. DocuSign notes that a full audit history of the document is available, including the location (via the recipient's IP address), time, and date that it was signed.

Highlight: The free version allows for up to three sends per month, but there are various paid upgrades depending upon the number of monthly signatures you need, amount of users, and levels of customization and security.



Microsoft Remote Desktop
Available: iOS, A, W

We're pretty sure you live at the office already, but for those times when you actually leave and realize that you forgot an important document or just need access to files on your computer, Remote Desktop has you covered. This requires a bit of forethought, however, since you need to configure your computer, leave it on, and set up the app, but once you do, it's easy to use. There are plenty of other remote desktop programs out there—including some old-timers like LogMeIn, which now requires a subscription—but we figured we'd go to the source since we all already use Microsoft. It's free... for now, anyway.

Highlight: There are pretty good instructions and even a link on the Microsoft website to configure your PC automatically. It can be a bit confusing otherwise if tech is your least favorite four-letter word.


Do you use an app that you love and want to share it with the industry? Let us know! Email Susan Rose at
susan@chauffeurdriven.com
.
Just for clarity:
• Apple products=iOS • Android devices=A • Windows devices=W
While many of the apps we profile will be free, a $ next to the platform indicates that there is a fee to download and/or use. Some versions or features of the app may ­require a fee to unlock or use.
[CD0416]