BY MADELEINE MACCAR
Cover Art: Members of the Don Brown Bus Sales livery team include (L to R): Director of Sales Scott Duffy, Regional Sales Manager Carl Restivo, and Vice President Eric Sebast. Photography by Chris Weiss.

When Don Brown Bus Sales first opened its doors as Donald L. Brown Used Vehicles in 1973 in Johnstown, N.Y., the city it still calls home, its entrance into the livery and luxury world was still nearly 40 years away. In that time, the company has done everything from selling and refurbishing used buses for schools and religious institutions to finding success in other sectors and branching out into commercial transportation in the early 2000s before entering the chauffeured transportation scene in 2010.

In just a matter of years, the Don Brown team has become an industry mainstay, priding themselves on being equally visible and versatile. The company has put tremendous effort into both sponsoring and attending regional meetings, legislative and fundraising events, and trade shows—as well as meeting customers' demands for high-quality vehicles through a range of offerings it boasts as the exclusive dealer for popular manufacturers like Grech Motors. Exclusive partnerships are the result of a relatively recent shift in Don Brown's approach to the vehicles it stocks. Vice President Eric Sebast has grown up with the company, saying that he started out sweeping the floors as a boy before assuming his current role. His history with Don Brown offered him firsthand insight into how and why the philosophies of what he says is the country's largest Type A bus distributor have evolved over time—but have always kept customer satisfaction at the forefront of its mission.

"Don Brown has moved to working with builders who have a proven track record of supporting their customers and standing behind their vehicles to maximize client satisfaction," Sebast explains. "When we get a call from someone while the product is still under warranty, they're not going to get some excuse about why that repair isn't covered. It's about how the product will benefit the customer, how it's going to help them create more revenue in the end."

Stocking vehicles from a small number of carefully selected manufacturers means that Don Brown is no longer juggling myriad warranties and products, and can instead direct its full attention on the buying experiences and after-sales care of its clients, 60 percent of whom both Sebast and Director of Sales Scott Duffy estimate to be repeat buyers.


Don Brown has moved to working with builders who have a proven track record of supporting their customers and standing behind their vehicles to maximize client satisfaction." –Eric Sebast, Vice President of Don Brown Bus Sales
Director of Sales Scott Duffy (left) and Body Shop Director Matt Rocklin in front of a F550 Grech shuttle "Our clients are confident that we're going to be able to support them through our own resources and through all of the component companies that are involved in these builds," Duffy states. "We have a network of service locations around the territory we serve, and I think everybody knows we'll make sure their equipment is fixed quickly when it goes down. We work with very large companies, and we're all in this together to support the customer at the end of the day."

Sebast adds that the Don Brown team's dedication to being accessible at all hours and every day is a key factor in customer loyalty. They know that it is crucial to address any problems as soon as possible to facilitate getting a vehicle back on the road as quickly as a thorough repair allows. "Another reason why we've been successful is that there's not a person on staff here who won't pick up their phone if it rings at midnight," says Duffy. "The entire leadership team gives out their cellphone numbers, and our phones are on 24/7."

Those company leaders are among the 76-person full- and part-time team comprising Don Brown's staff, which also includes a sales team spearheaded by Dennis Colamarino, Carl Restivo, and Richard Saldanah. With intersecting territories under their care, Colamarino represents the Pennsylvania and New York regions, while Saldanah covers New England and Long Island. Restivo, who's been with Don Brown the longest, is responsible for the Pennsylvania, New York City, and New Jersey markets—though given his longevity, Restivo's customers "are spread across the entire geography," according to Duffy.

In addition to a staff that covers a wide area, Don Brown's commitment to the industry includes stocking an average of 600 new and pre-owned vehicles that are selected to satisfy everything from a sudden replacement for an in-demand group-mover to an operator's first time venturing into the world of high-occupancy vehicles.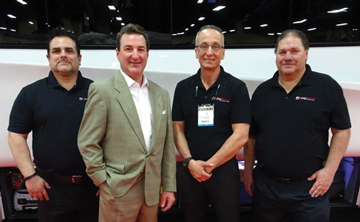 Director of Sales Scott Duffy (second from left) with Regional Sales Managers (L to R) Dennis Colamarino, Carl Restivo, and Richard Saldanah Along with specialty variations on the Sprinter shuttle, Don Brown also stocks Grech Motors' varied selection, running the gamut of buses built on Ford, Mercedes-Benz Sprinter, and Freightliner chassis that range between 28 feet to 45 feet. Among them, it is Grech Motors' 40-foot Freightliner that handily claims the spot as Don Brown's most popular offering, as Duffy says it appeals to a variety of operators for different reasons.

"The Grech GM40 works for limousine and livery guys who are moving into the bus business, and it's an animal that's different from anything they've ever owned before and suits all kinds of clients," he explains. "For the motorcoach clientele, it's something smaller and significantly less expensive than what they typically buy."

Of course, there are times when purchases are less of a calculated decision and more of an urgent necessity. Having hundreds of ready-for-purchase buses and Sprinters on the floor is the best insurance against the unpredictability of when a replacement vehicle becomes an imperative—and guaranteed rapid delivery is also of the utmost importance in those emergencies. Rather than waiting anywhere between a few weeks to a few months, clients can expect to put a new vehicle into their fleet in a matter of days—and, in extreme cases, within 24 hours of need.

"We've taken an actively different approach to our business model: Instead of putting a couple of demos in stock, we try to have a range of products ready to go at any time. When our clients come to us for a vehicle, it's usually because something has failed or they have another immediate need for it," Sebast says, with fleet additions being the most frequent reason why operators come looking for a new vehicle. "So whenever somebody calls us up, we have either the exact product—which is what we're shooting for—or we have something so close that it will work for them because they can have it quickly."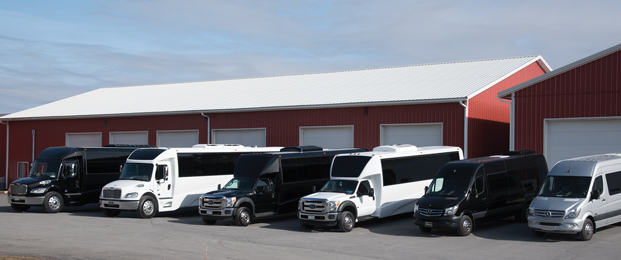 Some of the Grech Motors buses and Mercedes-Benz Sprinters that Don Brown Bus Sales has in stock And what keeps customers coming back? According to Duffy, it's everything from an overall lower cost of ownership given the vehicles' quality and longevity to Don Brown's widely accessible service locations to knowing that they can rely on dedicated support—"both from our team and our manufacturers."

Adding to that variety will be the forthcoming 28-foot E450 from Grech Motors, which Duffy expects will "be a very big seller for us" when it becomes available within the month.

"It fits 23 passengers with luggage and demand for it has been incredibly high, especially in major metropolitan markets," he says. "The E450 is a smaller, more nimble bus to drive through tighter city streets."

Catering to industry tastes, trends, and demands is just one of the ways Don Brown ensures that clients can get whatever they need. But its headquarters is more than a showcase of vehicles: It also offers on-site DOT inspection facilities, a cutting-edge paint booth, and a full body shop with nearly a dozen lifts that can handle electrical, air conditioning, and mechanical repairs.

And when those repairs inevitably need to be made, Sebast and Duffy agree that keeping lag time at a minimum is just as important as ensuring warranty payments get into operators' hands as quickly as possible.

"We'll pay the warranty and then we work with the manufacturer to reimburse ourselves," Sebast states. "That way, our customers are never out money while they need a warranty repair."

Going that extra mile is often a literal promise at Don Brown, as illustrated by how frequently its company leaders attend regional association meetings and the company itself sponsors those same events.

"We work with the people who are engaged in this industry and trying to make it better and safer," says Duffy. "The more we work together, the more we support them, the more we'll hopefully keep building those relationships and trust so that they feel comfortable knowing that we want to do what's best for the client and the industry as a whole." [CD0316]