By Laurence Cohen
In today's highly competitive business environment, having a cutting-edge website is an important and indispensable tool for, among other things, attracting customers, booking reservations, and providing notice of privacy policies and terms. However, some of the people who may be visiting your website are not future customers looking to book a ride; rather, they're prospective plaintiffs looking to take your company for a ride by bringing a lawsuit against it for violating the Americans with Disabilities Act (ADA).
The ADA is a law that all company owners should have at least some working familiarity with, especially in terms of vehicles and servicing passengers who require a wheelchair lift to access their transportation option. In short, it prohibits businesses that provide services to the public from discriminating against people with disabilities. As you're likely aware, this law is the reason why when you visit places of "public accommodation," such as stores, movie theaters, restaurants, you almost universally see things like automatic doors, railings, chairlifts, wheelchair ramps, and handicap-accessible restrooms designed to make sure that the building and surrounding areas fully accommodate people with disabilities.
"Many ADA lawsuits are brought by disabled people with ­legitimate concerns that their rights to equal access under the law have been ignored."
ADA compliance is obviously not something you initially consider regarding your website, but it does deserve your attention. While it is easy to think of a building as a place of public accommodation, many federal courts recognize websites on the internet as being places of public accommodation as well (though others have found that places of public accommodation must be physical sites). Thanks to this recognition, there has been an explosive growth in recent years in the number of ADA lawsuits challenging the accessibility of websites—an area that you likely haven't given much thought regarding ADA requirements. While this article primarily focuses on web users with visual impairments and the need to accommodate such limitations, it is important to note that when it comes to making a website ADA compliant, a website must be accessible not only to people with visual handicaps, but also those with hearing, motor skill, and other limitations. Moreover, ADA compliance in the digital world extends not only to websites, but to smartphone applications as well.
Many ADA lawsuits are brought by disabled people with legitimate concerns that their rights to equal access under the law have been ignored; unfortunately, there are also more than a few enterprising individuals who use this law to make their living. In the past, these "professional plaintiffs" would team up with attorneys, scout out places of public accommodation that they could not access (for example, a store with steps at the entrance and no wheelchair ramp), and then bring suit alleging violation of the ADA.
Now that more and more physical places open to the public have become accessible due to increased awareness of ADA obligations, stricter code requirements, and greater enforcement, finding non-compliant public places is becoming more difficult. Accordingly, the modern-day trend is for visually impaired or blind individuals to surf the internet, find websites they cannot access using screen reader software (discussed below), and then bring lawsuits alleging ADA violations. The list of companies that have been the subject of such lawsuits is quite long and includes well-known names as Target, Panera Bread, Domino's Pizza, and Reebok. Early in 2019, Beyoncé and her management company were sued by a blind woman who alleges the singer-songwriter's website cannot be navigated by screen reader software. The plaintiff is seeking to assert her claims as a class action and is requesting both injunctive relief and monetary damages.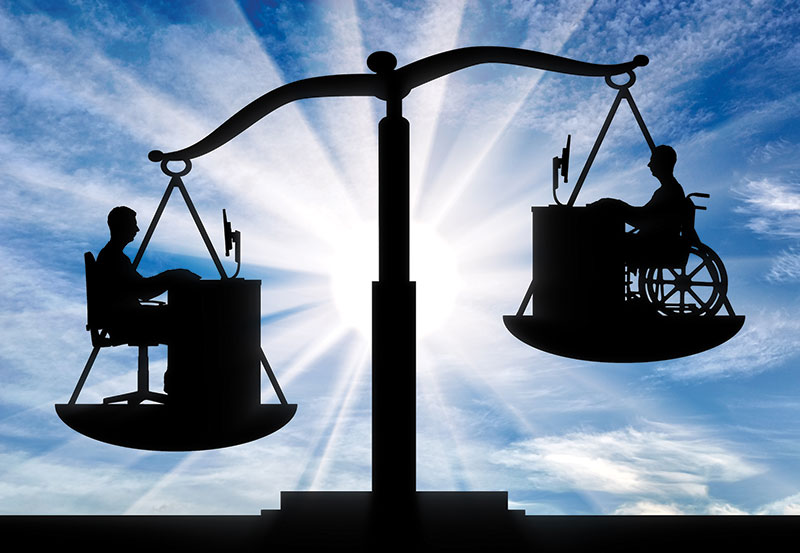 Many of the plaintiffs and attorneys behind these lawsuits are happy to make a quick buck and agree to settle their claims shortly after filing suit. Website owners often elect to settle, simply because it is less expensive than the cost of defending a claim. For those who choose to fight, the results have been a mixed bag. Several companies have prevailed on their lawsuits, particularly those located in jurisdictions where the courts do not consider websites places of public accommodation. On the other hand, others have racked up huge sums in legal fees attempting to get the claims dismissed pre-trial, only to quietly settle later after the court has rejected their efforts. To date only one company, Winn-Dixie Supermarkets, has litigated an ADA website accessibility case all the way to trial, and they did so without success in June 2017. The case is presently the subject of an appeal to the United States Court of Appeals for the Eleventh Circuit, and, as of publication, a decision is expected any day.
Private lawsuits are not the only thing companies with publicly accessible websites have to worry about. They must also contend with enforcement actions instituted by the Department of Justice (DOJ), the government agency responsible for enforcing compliance with the ADA. The DOJ has pursued charges against a number of high-profile companies in recent years regarding website accessibility, including H&R Block in 2014 and Carnival Cruise Line in 2015. Both companies ultimately elected to settle with the government and make changes to their websites, apps, and other online tools.
So how does one avoid their company being the subject of such a lawsuit? The best protection for your company is taking the steps necessary to make its website compatible with screen reader software for the visually impaired, and to optimize the site so that it is accessible by people with other types of disabilities. Screen reader software takes the text and images that a sighted person sees on their video screen, and converts it into either synthesized speech or displays the information on a braille display that a visually impaired or blind user can read with their hands. To work properly, the website being read must have certain features. For example, the text must be capable of being read (certain fonts and font sizes are incompatible) and images must be properly embedded with "alt text" that describes what the image consists of (for example, "image of bridesmaids in front of a stretch limousine").
Overhauling a website to make it ADA compliant is a complex task best left to a web designer knowledgeable about the ADA and related website compliance rules. While there are countless talented web designers, many lack this important knowledge, so selecting a qualified one is important. Once you have selected a web professional with the experience this task requires, you'll want them to conduct a full audit of your website with the goal of pinpointing any content that is non-compliant, and formulating an overall plan to optimize the content that is there, make it accessible, and bring the website into full compliance.
In the meantime, you should make sure that, at the very least, you have a phone number on the website that can be accessed using screen reader software, along with a notation stating that by calling the number, the user will be connected with a customer service agent who will read them the information on the website and assist with placing an order. This strategy may deter lawsuits, or even defeat them in certain jurisdictions. For instance, Domino's Pizza prevailed in such a lawsuit, based in part on the court's determination that the company met its ADA obligations by providing a 24-hour toll-free phone number that enabled blind customers to order by phone.
Maintaining a non-compliant website in today's litigious environment is risky. With many of the biggest names in business already having been hit with ADA accessibility lawsuits that have caused them to make modifications to their websites in response, the plaintiffs behind these lawsuits are no doubt beginning to turn their attention to lesser-known entities. I have already handled—and settled—a few of these lawsuits on behalf of transportation company clients. While website compliance is neither easy nor cheap, it's the law, and it's the only way to ensure that when a professional plaintiff visits your website and tests it out, they don't find a sitting duck ready for their next lawsuit.  [CD0619]
Disclaimer: The foregoing is provided solely as general information, is not intended as legal advice, and may not be applicable within your jurisdiction or to your specific situation. You are advised to consult with your attorneys for guidance before relying upon any of the information presented herein.
---
Laurence Cohen is a partner with Pike, Tuch, & Cohen, LLP. He can be reached at lcohen@ptcllp.com.