BY MATT DAUS
In the immediate wake of California's AB5 legislation, many commentators opined that the ABC test likely makes it difficult—if not impossible—for "gig economy" companies like Uber and Lyft to designate their workers as independent contractors. AB5, which took effect in January 2020, codifies a three-factor "ABC" test that presumes workers are employees unless all three factors are met (Uber and Lyft failed). The victory for our industry was important, but short-lived when along came California's Proposition 22.

Prop 22, which passed with 58 percent of the vote during November's election, carves out app-based ride-hailing and delivery drivers—but not taxis or other for-hire vehicles—from AB5. The ballot measure was the result of a campaign spearheaded by Uber, Lyft, and others to change California law so they could continue to classify these gig economy workers as ICs—saving them millions. The "Yes on 22" campaign was the most costly measure in the history of California, resulting in more than $205 million spent bombarding Californians to vote "yes." And they did, thanks to salacious claims that it would advance racial and social justice, decrease drunk driving, and save lives.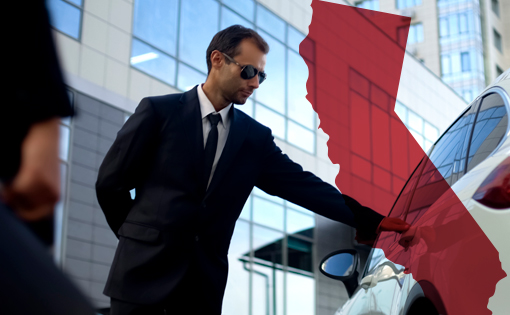 What's In Proposition 22?
Under Prop 22, these carve-out companies are required to offer certain alternative benefits, including minimum compensation, insurance to cover on-the-job injuries, automobile accident insurance, health care subsidies for qualifying drivers, protection against harassment and discrimination, and mandatory contractual rights and appeal processes. Companies will be required to pay drivers at least 20 percent more than the minimum wage, plus 30 cents per mile to cover expenses, without limits on how much drivers can make, and a stipend that is consistent with employer contributions under the Affordable Care Act.

Researchers caution that these benefits may be less than Uber and Lyft suggest. A study by U.C. Berkley found that, even though Prop 22 includes an earnings minimum equal to 120 percent of the local minimum wage ($13 per hour for California in 2020), "the promises in the proposition were worth the equivalent of only $5.64 per hour," once you factor in expenses. The National Employment Law Project and the Partnership for Working Families also found that

Prop 22 "does not explicitly protect immigrant workers from discrimination." Prop 22 also preempts local regulation of app-based driver compensation and gratuities; driver scheduling, leave, health care subsidies, and any other work-related stipends, subsidies, or benefits; and driver licensing and insurance requirements. This ensures that these companies are not subject to a patchwork of regulations by the more than 500 cities and counties in California.

Prop 22 Road Show?
Not surprisingly, Politico reported that Uber CEO Dara Khosrowshahi told investors after the Prop 22 victory that, "going forward, you will see us more loudly advocate for new laws like Prop 22, which we believe strikes the balance between preserving the flexibility that drivers value so much, while adding protections that all gig workers deserve," adding that "it's a priority for us to work with governments across the U.S. and the world to make this a reality." Likewise, Lyft CEO Logan Green said to investors that Prop 22 "can provide a model for other states." Lyft President and co-founder John Zimmer told investors that he strongly believes policymakers on the federal level will see this as a watershed moment and "recognize that the model that voters backed in California makes sense."

However, President-elect Joe Biden and Vice President-elect Kamala Harris supported AB5 and came out against Prop 22. Biden also strongly supports the Protecting the Right to Organize (PRO) Act, a federal law that would use the ABC test for deciding whether workers can form unions and also roll back "right-to-work" laws. Biden's campaign website notes that he "will work with Congress to establish a federal standard modeled on the ABC test for all labor, employment, and tax laws" to ensure "gig economy" workers "receive the legal benefits and protections they deserve."

At the state and local levels, gig worker rights have been percolating around the country. So far only Seattle and NYC have passed any measures to protect salaries of TNC drivers, but lawmakers in other areas of the country who are looking to do something like AB5 may now think twice after Prop 22. According to Lyft, more than 120,000 drivers signed up to be part of the effort to pass Prop 22. And voters effectively smacked down both the legislature and the courts in handing "Yes on 22" a decisive win, which could send reform-minded lawmakers in a Prop 22-like direction.

Both Uber and Lyft see the California Prop 22 victory as a model for other states, and have stated that it's a priority to persue.
The Independent Drivers Guild responded to California's passage of Prop 22 by calling on state legislatures in New York, New Jersey, and other states to enact legislation that would give gig workers collective bargaining rights—to light a fire "under pro-labor advocates."
As for New York, all signs pointed to 2020 being the year that the ABC test would come to the Empire State. In late 2019, the New York legislature held hearings about gig workers, and introduced two pieces of legislation that would change gig worker status. One bill (S6699/A8721) would establish the ABC test for determining worker classification broadly. Another bill (S6538/A8343) would give limited benefits and collective bargaining protections to a new class of "dependent workers" for app-based labors. More importantly, Governor Andrew Cuomo vowed to extend employee protections to workers in the "exploitive, abusive" gig economy and included legislation in his Executive Budget Bill for 2020-2021 to do a deeper study of the issue and allow the NYS Department of Labor to introduce ABC test regulations. But then COVID-19 struck: The legislation fell out of the budget, both bills stalled, and no protections were passed.
Crain's New York reported that, according to New York Sen. Diane Savino—a co-sponsor of the Dependent Workers Act—gig-economy players "that fought for Proposition 22 have been at the table with lawmakers in Albany for months, working on a solution that provides 'the flexibility of gig economy but creates the protection we all know workers need.'" Savino said she plans to introduce such a bill by January 2021.
In sum, this is simply the beginning, and not the end of the classification battle. On one side, you have drivers who are divided about whether to stay independent or unionize as employees—yet agree on one thing: they want higher wages and benefits. On the other side are the emboldened TNCs, which seem likely to begin a national tour to pass laws similar to Prop 22. The new proposed template for TNC labor regulation has been born, and it will be interesting to see how it is developed and tweaked in other states. TNCs are unlikely to push for any unionization, and will likely insist on preemption provisions to ensure that cities like NYC and Seattle are precluded from having their own minimum or living wages that deviate from the Prop 22 structure.
I fail to see the Constitutional authority for Congress and the President to take action on this topic, as under the 10th Amendment of the Constitution, such matters are reserved for States (with the exception of federal contractors and interstate transportation licensed by the Federal Motor Carrier Safety Administration). One thing is for certain though: Since Prop 22 only applied to TNCs and not to the taxicab or limousine industries, an already uneven regulatory playing field for licensing has become entirely lopsided—with many operators now facing the choice of classifying their drivers as employees, becoming TNCs themselves, or possibly going out of business, should this movement unfold as it did in California.
  [CD1220]
---
Matt Daus is a partner with the law firm Windels Marx, president of IATR, and a leading authority on ridesharing apps. He can be reached at mdaus@windelsmarx.com.