BY MATT DAUS
Public transit agencies—and state and local governments—are hurting now because of the impact of the COVID-19 pandemic, and they will need new efficiencies and revenue sources. This crisis could pave the way for expedited implementation of Mobility-as-a-Service (MaaS) partnerships, expand the use of brokered car services to provide paratransit service, and replace government fleet vehicles and social service programs with for-hire and luxury ground transportation vehicles, among other cost-saving measures.

MaaS is the integration of multiple forms of transportation services (FHVs, scooters, bikes, public transit, etc.) into a single user interface that allows travelers to plan, book, and pay for these types of mobility services in one place. It allows for a fluid system that incorporates various modes of transport so travelers can reach their destination seamlessly via complete point-to-point trips. Moreover, MaaS also allows transportation agencies to use new business models to organize and operate various transportation modes, giving agencies the added advantages of improved information on ridership and demand. Let's take a look at some of these potential new opportunities.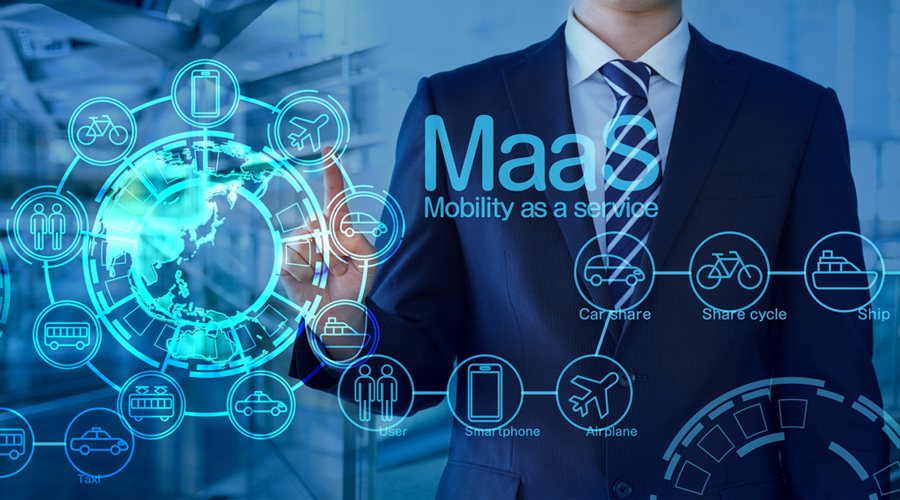 First Mile/Last Mile The term "first mile/last mile" describes the beginning and end of an individual's public transportation journey. In other words, it is how people travel to and from transit hubs (airports, train stations, bus stops, etc.) and their starting points and destinations. In transit-rich areas like Manhattan, this usually means walking. In the suburbs and transit deserts, where it could be miles to the nearest transit stop, some type of "wheels" may be necessary

In 2019, Jersey City collaborated with Via Transportation for New Jersey's first on-demand bus network to enhance service, close transit gaps, and expand connectivity. "Via Jersey City" launched in February 2019, and the service has been a success despite the pandemic. The service complements and extends the existing public transit infrastructure to provide better connections. Riders use the Via app to select a pickup and drop-off location within the service zone, and fares are $2 per ride. This is just one of many partnerships that Via has with cities, private operators, school districts, corporations, and universities to transform transit systems into efficient digital networks. Via's technology powers first mile/last mile, school bus, transit desert, paratransit, and non-emergency medical transportation (NEMT) solutions around the world.

Paratransit & Accessible Service Innovation Paratransit means comparable transportation service required by the Americans with Disabilities Act (ADA) for individuals with disabilities who are unable to use fixed route transportation systems. Paratransit operations are often described as dial-a-ride, on-demand, curb-to-curb, or door-to-door services, but are more accurately termed "origin-to-destination" services. There are two primary ways to provide paratransit service: dedicated service and non-dedicated service. Dedicated service providers transport paratransit customers using transit agency-owned vehicles. Non-dedicated service providers, such as a brokered car service, provide paratransit service in concert with their existing operations using taxis and FHVs. The broker model uses contractors to schedule and dispatch prearranged trips for paratransit customers through a non-dedicated subcontractor network of taxi, luxury ground transportation, and black car service providers.

Similar to—but separate from—paratransit is NEMT. Launched as a joint federal and state program in 1966 to Medicaid beneficiaries, NEMT is a ground transportation service provided to individuals without access to public transportation who need to travel to medical appointments. NEMT services are generally supported by Medicaid funds. Many different studies have shown that paying for an individual's transportation to the doctor's office can prevent the condition from deteriorating into an emergency situation, which can cost hospitals and insurance companies thousands of dollars. Studies have shown that brokers, who operate on a fixed budget rather than a fee-for-service amount, have improved service quality and controlled costs. In 2005, Congress passed the Deficit Reduction Act that gave state NEMT programs enough flexibility for local governments to seek out cost-saving opportunities by outsourcing the day-to-day management of NEMT services to brokers.

As the need for paratransit and NEMT services continue to grow, there will be opportunities for FHVs to fill service gaps. In the TNC space, Uber and Lyft have partnered with health care-related businesses to provide transportation for patients. Luxury ground transportation could have similar strategies. While traditional FHV companies typically only provided NEMT services to larger state contracts, they could approach local health care facilities in an attempt to procure private contracts as well. Delivery Service The pandemic drove e-commerce sales at Walmart up 97 percent, and Target set a sales record as its same-day fulfillment services grew 273 percent, while Amazon reported a 40 percent increase in sales. According to the Q2 2020 report from the U.S. Census Bureau, U.S. retail e-commerce was up 31.8 percent from the first quarter of 2020, and 44.5 percent year over year. Urban deliveries do not require highly sophisticated or large trucks. FHVs, particularly companies that operate fleets of larger vehicles, could offer a straightforward solution to maximize the efficient use of vehicles. When not transporting passengers, these vehicles could pivot to on-demand delivery services, such as DoorDash, Grubhub, Instacart, and Postmates, or scheduled deliveries for Amazon and other parcel delivery services. The delivery space is unregulated, which is good, and may remain that way permanently.

Government Contracts FHVs could fill current or potential gaps in the public sector, in particular as replacements or substitutes for government fleets, as providers of employee travel, meal delivery services, or social services.

Government contracts for social services and Meals on Wheels are also a potential business line for our industry. Many state and local governments and nonprofit organizations provide home-delivered meals (hot or frozen) for seniors who are house-bound and cannot prepare their own meals. The now-shuttered TLC Food Delivery was a key component of the GetFoodNYC program to ensure food insecure New Yorkers had access to meals during the pandemic. According to the TLC, during the program's run, drivers "working in their cabs, their livery cars or their family minivans have delivered over 65 million meals and earned over $39 million." While this program is no longer running, delivery and e-commerce have been the lifeblood of the pandemic and show no signs of stopping now.
"Mobility needs have not gone away during the pandemic, but they have changed."
There are approximately 5,000 Meals on Wheels programs that deliver or serve meals to about 2.4 million older Americans each year. Meals on Wheels has seen an influx of older adults who are in self-quarantine and in need of services. The Families First Coronavirus Response Act, signed into law by on March 18, 2020, provided additional funding for the nutrition services programs authorized by the Older Americans Act (OAA) of 1965, with additional funding coming from state and local governments and private sources. The COVID-19 pandemic has increased the state and local governments' need for fleets of vehicles to support these programs to and bring meals safely to those who need them. FHVs could seek contracts with state and local government agencies to provide these services using existing vehicles—permanently.
As we stand on the threshold of a new calendar year, we can see glimmers of hope in the year to come. While it looks like the pandemic's economic impact on public transit agencies and state and local governments will continue for the near future, the pandemic is also causing many governments to reimagine transportation policy and systems. While the short-term impact can been seen—fewer cars on the roads, less people using public transit, and cities like New York are reallocating street space from cars to pedestrians and cyclists—the medium- and long-term impacts are less clear. There are a few things to watch for while the U.S. grapples with getting COVID under control. Mobility needs have not gone away during the pandemic, but they have changed. Cities will need to develop ways to meet mobility needs with less funding, particularly in the face of unprecedented disruptions. Transportation workers will be among the first groups eligible for vaccination since they are deemed essential workers. Thus, in 2021, the luxury ground transportation industry could be leading the way to continue to transport commuters, provide innovative solutions for paratransit services, support delivery services, and contract with government entities.
  [CD0121]
---
Matt Daus is a partner with the law firm Windels Marx, president of IATR, and a leading authority on ridesharing apps. He can be reached at mdaus@windelsmarx.com.