BY MADELEINE MACCAR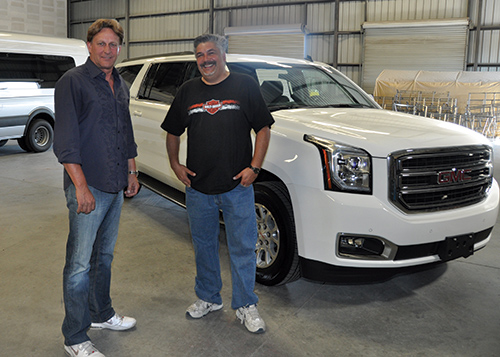 Phil Eisen (left), owner of LA Custom Coach, with Vice President of Sales, James ChecoSince owner Phil Eiselin opened the doors of LA Custom Coach in 2000' one of the hallmarks of the company has been vehicles that are not only unique and visually interesting' but also a little sassier than you'd find with a traditional builder. While Eiselin doesn't shy away from corporate-style vehicles—Sprinters have become one of his shop's best-selling vehicles—the fun really begins on the wilder side of mild for the team at LA Custom Coach.

Intricately crafted bars' technological amenities' illuminated dance floors' and even the occasional hot tub have all helped make the Fontana' California-based company's modified limousines veritable parties on wheels. But according to James Checo' the company's vice president of sales' such ostentatious flourishes only grace its vehicles because they make sure the good times keep rolling without detracting from the safety that he and his team of 13 craftsmen demand from everything they customize.

The safety of each vehicle is placed at such a premium that a company guideline even turns the goal into a personal objective. "Safety's our number-one thing. We have a rule here' it's called The Daughter Rule: Would Phil put his daughter in the car we're building? It's something we stick by' something that we don't sway away from'" says Checo. It's an invaluable yardstick for a business whose customers can be chock-full of creative ideas that don't always take practicality into consideration. "I'll turn away stuff that I know is going to be unsafe. There's somebody out there who'll build it for you but it's not here."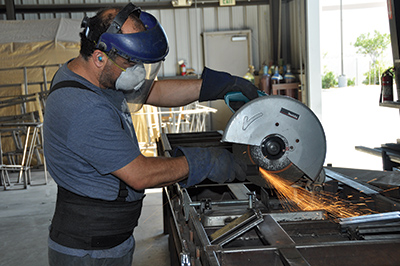 The welding and fabrication processWith California's Senate Bill 109 mandating that all new extended limousines have to meet emergency-exit minimums by 2015 and older modified limousines must be retrofitted by 2016' LA Custom Coach built the first stretch that exceeds all of the new standards. According to Checo' the company has been surpassing industry requirements since it began operation. "It's a federal standard: It's good but you can do better. We always believe that you can do better on safety'" he says.

Crafting a final product that's as awe-inspiring as it is safety-minded takes time' and each vehicle's specific parts and structure dictate what kind of turnaround can be expected. It can take as few as four to six weeks to modify a Sprinter interior' but the average is generally eight to 12 weeks—though some extreme scenarios may require months of work' like the Lexus LS600 hybrid that Checo calls "hands down' one of the prettiest cars we've ever built" but took six months alone to wrangle its wiring into working order. "That car was' by far' the hardest' most difficult car to put together'" Eiselin concurs; however' the LA Custom Coach owner also agrees that it was a beauty of a machine. "It was rock solid. Beautiful."

Over the years' industry tastes have changed and Checo says that current trends are calling for more modest' toned-down designs and interiors' as many of the company's clients are corporations and private individuals whose preferences err toward non-stretch Escalades' Sprinter vans' and executive vehicles. While California's Air Resources Board restrictions limit what can be built for in-state ­residents' the international orders that comprise roughly half the company's business mean that a range of tastes shape the designs that LA Custom Coach has shipped as far as China or Australia. "I built [a Ford F-650] for [a client in] Hungary that was 45-and-a-half feet long. It had a custom sliding rag top and' in the back' it had an open patio area. That was a fun vehicle to build'" Checo recalls.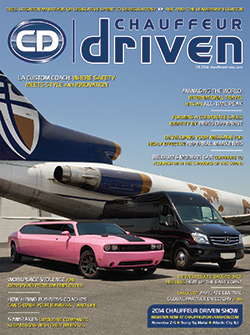 LA Custom Coach Pink Pearl and
Mercedes SprinterThe company recently joined the breast-cancer awareness crusade as an unintended byproduct of Eiselin's desire to bring a pink stretch to an industry show that traditionally showcased either black or white autos. Checo was initially hesitant about bringing "a vehicle that's not presold in a completely oddball color" to the event; however' a little brainstorming soon united LA Custom Coach with the Susan G. Komen Foundation and the company's first pink Dodge Challenger limousine found a home at Stellar Limousine in South Dakota' where a percentage of each run in the eye-catching ride benefits the local Susan G. Komen chapter. What began as a one-time project has placed a second and third pink Challenger with operators in Texas and New York' and LA Custom Coach is currently working on its fourth one. Eiselin estimates that 200 to 300 extra labor hours go into the cars that are far more detailed than typical white or black Challengers. "This is a total color change'" Eiselin says. "We don't just paint the car' we paint all the jambs' all the door openings' the underhood. The car is taken apart' it's painted pink. So if you open the trunk' it's pink inside. You open the door' it's pink inside."

Safety's our number-one thing. We have a rule here, it's called The Daughter Rule: Would Phil put his daughter in the car we're building
– James Checo, vice president of sales
LA Custom Coach's meticulous attention to even the smallest detail has paid off. Its business comprises about 85- to 90-percent repeat clients' and quite a few of its cars are still in use well beyond their 200'000-mile marks. But Checo says that an odometer doesn't tell the whole story' using the example of a Las Vegas limousine that spends a lot of time idling along The Strip. "It's not necessarily the mileage on the vehicle but the hours on the motor'" he explains. "We build a car to last as far as strain and structure goes." The fact that the very first car built by LA Custom Coach—a 2000 Ford Excursion—is still on the road is a testament to both the durability and quality of the company's vehicles. "We have a long track record of quality products. We have not wavered from that at all'" ­Eiselin says.
In addition to the detail and safety that goes into every one of its vehicles' LA Custom Coach strives for the kind of innovative approaches that separate it from everyone else. "We were the first to use LED lighting back in 2001'" Eiselin says. "Having something that hasn't been done before is the challenge. That's why you do custom things and not production things' because you want to try something different." Embracing the flexibility required to stay on top of always-changing products has put LA Custom Coach at the forefront of state-of-the-art customization. "We like to get to the market first with stuff. We'll do a lot of research on what's new' what's coming out. If I can get my hands on it before it's out in the open market' we do it'" Checo says. "Safety is our number one' quality's our number two' and from then on out' it's just: Let's have some fun building it."
[CD0814]